GJRC News
SERVICE OF SOLIDARITY
15 October, 2023
As tragic events continue tounfold in Israel, SCoJeC and the Glasgow Jewish Representative Council held a Service of Solidarity in Giffnock Newton Mearns Synagogue on Thursday, 12 October. More than 500 members of the community, parliamentarians, civic and faith leaders, and guests joined together to reflect on the events of the last week when we saw innocent civilians in Israel subject to a barbaric attack by Hamas. Innocent men, women, and children have been indiscriminately murdered and many have been have taken hostage including old people, Holocaust survivors, and young children.
Rep Council President Timothy Lovat opened the service by stating powerfully that "Israel may be our homeland, but Scotland is our home. Let's live and pray together in peace and harmony today, tomorrow, and forever". He then invited the mother of the late Bernard Cowan, who was murdered in Israel the previous Saturday, to light a memorial candle in memory of her son who was born in Glasgow.
The senior rabbi in Scotland, Rabbi Moshe Rubin of Giffnock Newton Mearns Synagogue, gave a moving address, sharing how difficult the previous days had been since he led the congregation over Simchat Torah. He talked of his own reflections of the events in Israel and shared his hope that the community across Scotland continue to take comfort from one another.
The Provost of East Renfrewshire Council, Mary Montague, remarked that her own roots were in the Gorbals, and reflected on her lifelong friendships with Jewish neighbours from that time. She concluded that all in the Council "share your great sorrow for the losses suffered and reaffirm our unequivocal support for our Jewish communities."
Psalms were then led by Rabbi Jacobs from Lubavitch, Rabbi David Rose from Edinburgh Hebrew Congregation, and Philip Mendelsohn representing Garnethill Synagogue. The prayer for the injured and kidnapped soldiers and civilians was read by Rabbi Rubin and Dr Mia Spiro, Chair of Jewish Student Chaplaincy Scotland.
Kirsten Oswald, MP for East Renfrewshire, shared her reflections on the previous days, commenting that "Our local area and our whole country is enriched in so many and varied ways because of our Jewish communities. But that same community is now in shock. Hurting and heartsore, and worried about family in Israel, about friends, and about what comes next as innocent lives are lost to the awful terror and violence … We are with you, we share in your worry and your sorrow, and we are here to support you."
Leaders from across the community then led prayers. Jacqueline Dunn, the Head Teacher of Calderwood Lodge Primary School, Scotland's only Jewish school, read the Prayer for the Royal Family, Babeth Naddell, Chair of Glasgow Reform Synagogue, read the Prayer for the State of Israel, and Adam Lewis, Chair of the Glasgow Jewish Community Trust, read the special prayer composed by the Chief Rabbi.
Stanley Lovatt, Honorary Consul for Israel, shared his experiences of the previous week and described the work done to support Israelis in Scotland. He also highlighted the many offers of support he has received and concluded by reading a letter written to the Scottish Jewish Community from the President of the State of Israel, Isaac Herzog, who thanked the community in Glasgow and Scotland more widely for their solidarity, support, and prayers. During the evening, the Glasgow Jewish Singers, conducted by Eddie Binnie sang Hashem Ma Adam, Yevarechecha and Avinu Malkeinu and led those present in the singing of Hatikvah.
Timothy Lovat welcomed the First Minister, Humza Yousaf MSP, who spoke powerfully about his wish to be with the Jewish community that evening, saying "Your grief is my grief." He spoke of his fears for his wife's family in Gaza and joined with the community in praying for an end to the pain caused to so many. As he left the podium, he was embraced by Timothy as the audience applauded his heartfelt speech.
SCoJeC Chair Nicola Livingston gave a vote of thanks, which she closed by acknowledging all that went into making the service possible, and thanking the staff across all of our communal organisations in Scotland who have worked tirelessly to ensure the community received the support it needs in such difficult times.
The First Minister stated unequivocally, "I stand in solidarity with Scotland's Jewish community, who have lost members of their community in the senseless and horrific attacks we witnessed last Saturday in Southern Israel. I want to send my condolences to the victims and the families of all those affected by this desperate situation. At a time of great sorrow and sadness, I want you to be in no doubt whatsoever that I, and the Government I lead, stand with you and with all communities who are mourning the loss of innocent life."
GLASGOW JEWISH REPRESENTATIVE COUNCIL YOM HASHOAH EVENT 2023
18 April, 2023
The Giffnock Newton Mearns Synagogue Hall was packed on Tuesday, 18 April for this year's GJRC Yom Hashoah event. The guest speaker was Australian journalist and author Peter Grose who spoke about his book A Good Place to Hide which detailed how a French village took in and saved thousands of Jews and got them to safety, without being caught.
Peter Grose told the audience: "Le Chambon-sur-Lignon is a village in Eastern France. It was 95% populated by Protestants and perhaps because of its Huguenot background, they too know what persecution was all about. They helped the Jews, including a great many children who had been in internment camps, knowing that if they got caught the penalty was death, but none of them got caught.
Guests were welcomed by GJRC Yom Hashoah committee Chair Agnes Isaacs, who said: "
Each year on Yom Hashoah, we gather to commemorate the Holocaust and remember the six million Jewish people who were murdered by the Nazis and their collaborators. They were ordinary people like you and me. They were mothers, fathers, grandparents and children going about their everyday lives with hopes and dreams for a future which regrettably never happened. The six million were killed simply for being Jewish.
"This lost generation will always be missed and can never be replaced. They include my grandfather, great-grandfather and great-grandmother whom I never knew and whose lives were ended in Buchenwald, Auschwitz and Treblinka."
The vote of thanks was given by GJRC President Timothy Lovat, who said: "It is an honour, a privilege and a responsibility for the Glasgow Jewish Representative Council to organise the Glasgow Jewish community's Yom Hashoah commemoration. The Council is conscious of the responsibility they have in ensuring that the memory of the Holocaust is perpetuated.
"The challenge for us is to ensure that we continue to remember the six million Jews who were murdered. The lessons to be learned from this terrible time in the history of humanity have not been diminished by the passage of time."
UJIA Scotland Senior Educator Sydney Switzer told the audience about the Yom Hashoah art project she had led for Calderwood Lodge Primary Seven pupils and there was a display of work and cookies made by the children in the reception area.
The comperes were Jamie Line and Ben Jackson; candles were lit by Nina Bernard, Katie Byrne, Becca Day, Ava Gurevitz, Lori Hecht and Peter Grose; their were performances by the Glasgow Jewish Singers, conducted by Eddie Binnie and by the Calderwood Lodge Jewish Primary School Choir, conducted by Mrs Anna Ferguson; the memorial prayer and kaddish were recited by Howard Brodie; the Yom Hashoah committee members were Anthea Berg, Fiona Brodie, Agnes Isaacs, Howard Singerman, Michael Tobias, Dianna Wolfson and Evelyn Yedd.
The event was supported by the Netherlee and Clarkston Charitable Trust, Queen's Park Charitable Trust, the Jewish Youth Fund (Scotland), UJIA and the Scottish Council of Jewish Communities.
PESACH MESSAGE FROM BOARD OF DEPUTIES OF BRITISH JEWS PRESIDENT MARIE VAN DER ZYL
10 March, 2023
At Pesach, we celebrate the freedom of the Jewish people. It is a joyous festival but it is also the time of year when we recall the suffering of our ancestors and how they fought against and triumphed over adversity.
This year, the cost-of-living crisis means many of us are experiencing real financial hardship. However, as our experience over thousands of years demonstrates, being part of a community means that no one has to suffer alone. We showed through the pandemic that we are stronger together and we can help each other now too, at home and abroad.
For the past year we have witnessed the awful trauma of Ukrainians who have been forced to defend their country from Russian aggression. We at the Board of Deputies have supported the wonderful efforts of World Jewish Relief to help those who are suffering. We have worked hard to coordinate the available resources from the Jewish community to help Ukrainians in the most effective ways. Sadly, a new humanitarian tragedy has also hit Turkey and Syria in the form of a massive earthquake. Again, we support community efforts to help those most in need.
In the past year, the Board of Deputies successfully held the BBC to account for its inaccurate and irresponsible reporting of an antisemitic attack against a group of Jewish teenagers on a bus in Oxford Street. The Board of Deputies lodged a formal complaint with Ofcom, which ruled that the BBC's coverage failed to observe editorial guidelines on both impartiality and accuracy and that the Corporation had made a serious editorial misjudgement.
For many years Stephen Sizer, a rogue Anglican vicar, had been posting egregious material online. Last year, as a result of complaints by the Board of Deputies, a Church of England Tribunal ruled that Sizer had on one occasion "engaged in antisemitic activity" as well as "conduct unbecoming" of a Church of England Minister and conduct that "provoked and offended" the Jewish community over a sustained period. He has now been banned for serving as a Church of England Minister until 2030.
Through our Local Government Seminars, we have educated local and regional politicians about the Jewish community and its concerns, enabling them to gain a better understanding of our community. We have also relaunched the Jewish Living Experience Exhibition which will be travelling around the country educating children and adults about the Jewish way of life. And we are soon to be launching a ground-breaking online secondary school programme about the Jewish people, antisemitism, and how to be an ally against Jew-hatred.
We continue to celebrate the good news of the Abraham Accords for the Middle East. Last year, Prime Minister Rishi Sunak addressed our diplomatic reception celebrating the second anniversary of the Abraham Accords, which normalised relations between Israel, Bahrain, the UAE and Morocco and which gives hope to the entire region.
This is but a snapshot of the extensive and varied work the Board of Deputies does on behalf of us all to protect our religious freedoms and our way of life. Whatever your interests or concerns as a Jew, the Board of Deputies is here for you.
Pesach Sameach to you and your families from everyone at the Board of Deputies.
Marie van der Zyl OBE
President
Board of Deputies of British Jews
REP COUNCIL PRESIDENT'S HOLOCAUST MEMORIAL DAY AND RISING ANTISEMITISM REFLECTIONS
07 February, 2023
GJRC President Timothy Lovat attended several Holocaust Memorial Day events, as did other Board and staff members. Here are his reflections on rising antisemitism in the context of HMD.
Nearly 80 years after the end of World War Two, it would appear the lessons the world should have learned from the Holocaust are largely being ignored in this country.
The constant rise in antisemitism has prompted a billboard campaign to tell the public that Jews are 500% more likely to suffer hate crime than any other faith group.
Yes constant rise.
In 2016 a Home Office report stated: "it is alarming that recent surveys show that as many as one in 20 adults in the UK could be characterised as clearly antisemitic.
"The stark increase in potentially antisemitic views between 2014 and 2015 is a trend that will concern many.
"There is a real risk that the UK is moving in the wrong direction on antisemitism, in contrast to many other countries in Western Europe.
"The fact that it seems to have entered political discourse is a particular concern.
"This should be a real wake up call for those who value the UK's proud, multi-cultural democracy.
"The Government, police and prosecuting authorities must monitor this situation carefully and pursue a robust, zero tolerance approach to this problem."
Seven years on, many people clearly haven't heard the wake up call.
However, it is gratifying to see that Holocaust Memorial Day is being taken so seriously by so many here in Scotland.
In the past few days I and my colleagues in the Glasgow Jewish Representative Council have attended ceremonies of remembrance right across Scotland.
These include the Glasgow University Annual Holocaust Memorial Day Lecture; East Renfrewshire Council's event and the Interfaith Scotland Holocaust Memorial Day event held at the Town Hall Inverness, where the speaker was Kathleen Hagler, a survivor who settled in the Highlands capital. Interfaith Scotland held another event in Falkirk as well.
In South Lanarkshire several primary and secondary schools prepared their own Holocaust Memorial Day projects for the benefit of their fellow pupils. Indeed I attended one of these presentations at Lesmahagow High School.
West Dumbartonshire Council held a flag-raising ceremony at their headquarters to commemorate the day.
Perhaps the highlight for me was the moving ceremony at Calderwood Lodge organized by East Renfrewshire Council in conjunction with the Rep Council.
There is no doubt the people I have met at these events are well-meaning and find antisemitism abhorrent.
However, there are still plenty of others who think it is OK to hate people simply because they are Jewish.
I sincerely hope the message from these solemn and thought-provoking events filters through to those who need to hear it most.
NEWTON MEARNS SYNAGOGUE FAREWELL SERVICE, RECEPTION AND DINNER
22 January, 2023
A special day of events was held to bid farewell to Newton Mearns Synagogue on Sunday, 22 January. The events began with a Mincha service, led by Eddie Binnie and the Glasgow Jewish Singers, during which past Chairman David Links gave a history of the Shul and Scotland's senior minister Rabbi Moshe Rubin spoke of congregants taking their memories with them to their new home in Giffnock as part of the Giffnock Newton Mearns Synagogue congregation.
At a reception after the service, Chief Rabbi Sir Ephraim Mirvis praised the Newton Mearns congregants for their bravery and sacrifice and extended his best wishes to the new, merged congregation. Amongst those present in the afternoon were Glasgow Jewish Representative Council President Timothy Lovat, Scottish Council of Jewish Communities Chairman Nicola Livingston and Director Ephraim Borowski, East Renfrewshire Council Provost Mary Montague, Council Leader Owen O'Donnell and MP Kirsten Oswald, Renfrewshire Lord Lieutenant Colonel Peter McCarthy and former Scottish Parliament Presiding Officer Ken Macintosh.
A dinner was held in the evening, during which congregants shared special memories of their time at the Shul and special guest former Scottish Labour Leader and local MP Jim Murphy entertained everyone with his memories.
AJEX REMEMBRANCE SUNDAY MARCH, WREATH-LAYING CEREMONY AND SHUL SERVICE
13 November, 2022
Rep Council President Tim Lovat spoke of the debt he owed to all those who served in the World Wars, after a Remembrance Sunday Service held in the Giffnock Newton Mearns synagogue in Newton Mearns on Sunday, 13 November.
The President said:
Remembrance Sunday is a day to commemorate the contribution of British and Commonwealth military and civilian servicemen and women in the two World Wars and later conflicts who participated to give us and others freedom.

I have not sacrificed anything for my freedom. It was given to me by those who came before me and sacrificed so much. So now, it is my responsibility to never forget them.

Their contribution has allowed me the freedom to stand here today and give this speech, to get an education, a job and live a free life. I am forever in their debt.

This Remembrance Sunday, families the world over will remember stories of both tragedy and heroism in equal measure. While the living memory of the two World Wars has all but passed beyond us, this year there is a new poignancy to our commemoration. The armistice that ended the First World War may have been signed 104 years ago, but once again, we awake to images of trench warfare in continental Europe. Footage of dugouts, dirt, shellfire and carnage are live-streamed across our social media platforms.

As we stand here in peace and safety, we pay our respects to all of the fallen, all of the wounded and all who serve and served in conflicts in the past and in the present. Today, as we should every day, we remember all the volunteers who sacrificed, served, fought and died for our freedom. We thank you and we salute those who made the ultimate sacrifice for our freedom. We will never forget. We will remember you.
The AJEX event, organised by Rep Council administrator Evy Yedd, was led by local brigade commander Monty Cowen who, together with Timothy Lovat, laid wreaths at the Newton Mearns war memorial following a march with members of the local British Legion, led by the Neilston and District Pipe Band. Those present included Rep Council Past Presidents Evy Yedd, Paul Morron, Philip Mendelsohn and Harvey Livingston, Scotland's senior minister Rabbi Moshe Rubin and a group from the 5th Giffnock Guides.
At the shul service afterwards, Rabbi Rubin gave the Memorial Address to an audience that included East Renfrewshire Provost Mary Montague, local MP Kirsten Oswald and Renfrewshire Deputy Lieutenant Ken Ross OBE.
GJRC AGM
16 June, 2022
The Glasgow Jewish Representative Council held its first live AGM since COVID on Thursday, 16 June, in the Giffnock Newton Mearns Synagogue Giffnock Reception area.
Timothy Lovat, the new President of the Glasgow Jewish Representative Council, is the youngest holder of that office in the organisation's history.
The 44-year-old businessman succeeded Paul Edlin, who stood down after his three-year term came to an end at the Annual General Meeting last week.
As he accepted the Chain of Office, Timothy pledged to try to bring out the best of what the city's Jewish community has to offer.
He said: "I would like to harness all that is good in Glasgow's Jewish community, all the expertise and the knowledge, and bring it together for the common good.
"Although the community has shrunk in recent years, we still have a great deal to give, not just to one another but also to Glasgow as a whole and the rest of Scotland.
Timothy also thanked Paul Edlin for all of his hard work during his Presidency and promised to continue with his efforts to build good relations with the local Muslim population.
"Paul has made great strides in this direction and I would like to congratulate him on that success and continue where he left off," he said.
It was a proud day for the new President as his daughter Talia was among several members of the community who were honoured for their contributions during the previous 12 months.
Irene Yona presented the Collins Award for Outstanding Youth Communal Excellence to Abi Benshetrit, Talia Lovat, Pippa Ure and Jenna Wilson. Talia was unable to attend the ceremony but her award was collected by her mother Claire.

The JP Jacobson Award for Adult Outstanding Communal Excellence was presented to Clive Aronson who entertained the Jewish community in Glasgow and around the world during lockdown and beyond with his regular zoom broadcasts of Oyvay Video.
Carolyn Dover accepted the 2021 award, which could not be presented to her in person last year due to lockdown rules.

And the Yoni Jesner Memorial Award for young people going on Israel Tour was made to Talia Lovat, Pippa Ure and Jenna Wilson.
With Howard Singerman and Ziv Dotan standing down as Trustees, the new Board consists of Gregory Barnett, Gary Cohen, Deborah Creedy, Warren Karpf, Nicola Livingston, Henry Lovat, Jonathan Manevitch, Sharon Schlesinger, Susan Siegel and Sammy Stein.
GJRC YOM HASHOAH EVENT
28 April, 2022
There was a huge turnout for this year's Yom Hashoah event, organised by the Glasgow Jewish Representative Council Yom Hashoah committee, chaired by Agnes Isaacs. As well as the live audience in the Giffnock Newton Mearns Hebrew Congregation Giffnock shul complex, many people attended via Zoom, including the guest speakers Silverio de Sousa Mendes from Portugal and Olivia Mattis from America.
The comperes for the event were Abi Benshetrit and Pippa Ure; candles were lit by Toby Binnie, Zohar Coughlan, Alice, Marnie and Sadie Jackson and Sammy Rosenberg; there were performances from the Glasgow Jewish Singers conducted by Eddie Binnie and the Calderwood Choir conducted by deputy head teacher Andy Robson; Howard Brodie recited the Memorial Prayer and Kaddish; there was a short film, introduced by UJIA senior educator Sydney Switzer on the Calderwood Lodge P7 Yom HaShoah Art project inspired by their studies of the Terezin Ghetto; the vote of thanks was given by GJRC president Paul Edlin; Yom HaShoah Committee members were Agnes Isaacs, Anthea Berg, Fiona Brodie, Tara Silberg, Howard Singerman, Michael Tobias, Dianna Wolfson and Evelynn Yedd.
Siverio de Sousa Mendes told the story of his great-grandfather Aristides de Sousa Mendes who, whilst Portuguese Consul-General in Bordeaux, saved thousands of people fleeing the Nazis in 1940, following a chance meeting with a Jewish man, Rabbi Chaim Kruger. They struck up a friendship and de Sousa Mendes offered to provide visas to the Rabbi and his family so that they could travel to Lisbon for onward passage. However, the Rabbi told him that he couldn't accept when there were so many others like him, equally desperate to escape.
Aristides de Sousa Mendes had a difficult decision to make, because Portuguese diplomatic staff were forbidden to provide visas for Jews or Russians. He knew that to help save the refugees he would be throwing away a distinguished diplomatic career and facing further punishment. However, he decided to stand with the laws of God rather than the laws of men and thus saved many thousands of lives.
He was sent back to Portugal in disgrace, dismissed from the Diplomatic Service and banned from returning to his former role as a lawyer. The family lost their home, were scattered throughout the world and he died in poverty in 1954. The family strove to achieve justice for him. Israel was the first country to recognise his bravery in 1966, when he was declared be a 'Righteous among the Nations'. In 1986 he was honoured by the US Congress and finally, in 1988, his own country recognised his bravery and he was posthumously promoted to the rank of Ambassador and an apology given to the family.
Silverio, together with Olivia Mattis, founded the Sousa Mendes Foundation. Olivia Mattis is the President of the Foundation, based in America. The Portuguese diplomat saved 12 members of her paternal family. She told the audience of the work of the Foundation, which tells the story of Aristides, captures the experiences of survivors and works with organisations around the world.
FIRST MINISTER MEETING WITH THE COMMUNITY
8 April, 2022
First Minister Nicola Sturgeon met with the Jewish community on Sunday, 27 March. She attended a meeting in the Giffnock Newton Mearns Giffnock complex, which was beamed live to the Edinburgh Hebrew Congregation and had many others present via Zoom.
The meeting was organised by the Scottish Council of Jewish Communities in conjunction with GJRC and supported by Giffnock Newton Mearns Hebrew Congregation and the Edinburgh Hebrew Congregation. SCoJeC Chair Nicola Livingston chaired the meeting, GJRC Vice-President Howard Singerman introduced Nicola Sturgeon, the vote of thanks was given by EHC Chair Hilary Rifkind and a presentation was made by Perele Rubin. The SCoJeC Jewish Scotland Connected Project enabled the hybrid nature of the meeting.
The senior Rabbi of Scotland Rabbi Moshe Rubin recited a prayer for Ukraine and thanked Nicola Sturgeon for her leadership during the pandemic and for helping to promote good relations between Scotland's faith communities.
The First Minister began by telling the community that she was there to listen to their concerns and feelings and answer any questions they might have for her. She spoke about the situation in Ukraine.
"Vladimir Putin is very much a war criminal over what is happening in Ukraine just now and the holding to account is going to be very important. The UN estimates that more than four million people are already displaced from within and beyond the country – something that has a lot of resonance with the audience here tonight.
"I know that the Jewish community is as determined as the Scottish Government to welcome and help displaced refugees from Ukraine. The first group of refugees has arrived in Scotland and Magen David Adom is one of the charities that has played a part in bringing them to Scotland."
Nicola Sturgeon confirmed that there would be no upper limit on the number of refugees coming to Scotland.
The First Minister answered a variety of questions which had been sent in, as well as from the audiences in Giffnock and Edinburgh and via Zoom. Topics included tackling antisemitism within the the SNP; the importance of Israel to the Jewish community; funding to engage in learning about Judaism; Jewish suspicions about nationalist ideology; the fact that the two Green Party members of the Scottish Government do not appear to have signed up to the IHRA definition of antisemitism; relations between an independent Scotland and Israel; the First Minister's one-sided statement last May when she condemned Israel.
REPRESENTATIVE COUNCIL MAKES SHABBAT VISIT TO THE GIFFNOCK NEWTON MEARNS HEBREW CONGREGATION'S GIFFNOCK COMPLEX
10 February, 2022
The Glasgow Jewish Representative Council made a visit to the Giffnock Synagogue on Shabbat, 5 February. After the morning service conducted by Rabbi Moshe Rubin, there was a sit down Kiddush in the banqueting hall, sponsored by Trustee Timothy Lovat on behalf of the Rep Council.
In addressing the gathering, President Paul Edlin spoke of how the Rep Council is working hard to build good relationships with the Muslim community and other groups.
the last flare-up between Israel and the Palestinians had led to many antisemitic incidents which had alarmed the community. In response, GJRC had strived to build ties with moderate Muslim groups and had been successful in doing so. He was pleased to report that a discussion Forum had been set up in which Scotland's senior minister Rabbi Moshe Rubin and an Imam were involved.
He condemned the First Minister Nicola Sturgeon's inappropriate, totally one-sided attack on Israel during the conflict and advised that, together with SCoJeC, he had brought this to her attention.
The Calderwood Lodge head teacher Lisa Corr has recently handed in her notice and Mr Edlin assured those present that Calderwood is and would remain a Jewish denominational school and that GJRC would be involved in the process of selecting her replacement.
GJRC was working well with the Scottish Council of Jewish Communities as well as the Board of Deputies of British Jews and the Jewish Leadership Council. Mr Edlin expressed his gratitude for the BOD support and for the JLC funding of public affairs consultant Colin Grant, whose contract has been extended until the summer.
Mr Edlin praised the work being done by Rabbi Rubin, who was a great spiritual leader, much loved throughout the community and highly respected beyond it.
The GJRC website has been revamped and updated and provided a source of information for the whole community and beyond. He urged organisations and members of the community to make full use of it for their own benefit.
During his sermon, Rabbi Rubin spoke of how his father Rabbi Y Reuven Rubin had been the first vice-president of the community umbrella group in the area of New York they were living in when he was growing up. He said that the pride he felt then for his father's community work was still with him today.
He added: "Equally, I feel a special pride in our community and how we punch way above our weight and how the Rep Council is at the heart of that work."
Rabbi Rubin explained that in Biblical times because the Jewish people always had to move around, poles made of acacia wood were crafted to carry the Aron Kodesh. The poles, however, had to be plated in gold even though they were just used to carry the Ark from place to place. This was because it was important for those who carried it to know that the work they were doing was deserving of gold.
He said: "Equally those who serve the community also deserve gold because they must realise that they are doing the work of God and should feel a pride in this work, despite its many challenges."
AFGHAN APPEAL LAUDED AT HOLYROOD
Tuesday, 28 September
The Glasgow Jewish community's amazing efforts to help Afghan refugees have been praised in the Scottish Parliament.
Jewish couple Vicci and Sammy Stein have been singled out for their fantastic leadership of the campaign, headed by the Rep Council, while the generosity of Calderwood Lodge pupils and parents has also been recognized.
Eastwood Conservative MSP, Jackson Carlaw, has secured support from the SNP and the Scottish Green Party for a Holyrood Motion he tabled to salute the "Incredible Interfaith Community Efforts to Support Afghan Refugees Arriving in Scotland."
The Motion continues: "That the Parliament commends the fantastic interfaith efforts in the Greater Glasgow area for securing thousands of donations to support the men, women and children who are arriving in Scotland from Afghanistan;
"Notes that the initiative, led by Sammy and Vicci Stein, has resulted in huge amounts of items such as baby products, toys, clothes and household goods being donated;
"Welcomes that the appeal from the Glasgow Jewish Representative Council developed into an interfaith campaign, with members of the Muslim community playing a pivotal role in securing additional facilities to help store the large amounts of items that have been donated;
"Understands that within just a number of days, almost every available storage space at the Maccabi Centre, Jewish Care Scotland and Cosgrave Care buildings, at May Terrace, in Giffnock, were filled with donations;
"Acknowledges that the two schools belonging to the world's first Jewish-Catholic joint campus of Calderwood Lodge and St Clare's primaries, in Newton Mearns, made a vital contribution to the appeal through the provision of toiletries and women's sanitary products;
"Understands that the donations will first be made available to a number of Afghan refugee charities, but because of the massive generosity from those who donated to this incredible initiative, there is a surplus of items and these will be given to other worthwhile causes;
"Recognises the fantastic leadership of Sammy and Vicci Stein, the incredible work undertaken by members of different faiths, including the Muslim and Jewish communities, and every person and organisation, including Calderwood Lodge and St Clare's primary schools, for taking the time to offer donations that will support Afghan families to be resettled in Scotland."
The Motion is supported by: Miles Briggs, Alexander Burnett, Donald Cameron, Finlay Carson, Bob Doris, Sharon Dowey, Annabelle Ewing, Russell Findlay, Murdo Fraser, Meghan Gallacher, Kenneth Gibson, Pam Gosal, Jamie Greene, Ross Greer, Craig Hoy, Fiona Hyslop, Stephen Kerr, Bill Kidd, Douglas Lumsden, Fulton MacGregor, Ruth Maguire, Stuart McMillan, Paul O'Kane, Douglas Ross, Dr. Sandesh Gulhane, Alexander Stewart, Paul Sweeney, Sue Webber, Annie Wells, Tess White

SNP HOUSE OF COMMONS LEADER VISITS GIFFNOCK SHUL
Friday, 3 September, 2021
Ian Blackford, the SNP's leader in the House of Commons, has reaffirmed his, and his party's, commitment to finding a lasting and just peace in the Middle East.
Mr Blackford was speaking during a guided tour of Giffnock Shul last week, where he met representatives of the Scottish Council of Jewish Communities and the Glasgow Jewish Representative Council.
He was accompanied by local SNP MP, Kirsten Oswald, who had arranged the visit in conjunction with SCoJeC's Director, Ephraim Borowski.
Rep Council President, Paul Edlin, opened the discussions by stating that he is hopeful of establishing a stronger relationship between the Glasgow Jewish community and Nicola Sturgeon.
He felt that the previously excellent connection between them had diminished during the recent war between Gaza and Israel.
He suggested that if Scotland becomes an independent nation then Israel might be one of its important trading partners and building good ties between the two states would benefit both.
Mr Edlin also highlighted the recent case of anti-Israel and anti-Jewish graffiti in the girls toilet at an East Renfrewshire high school and described efforts the local Jewish community is making to engage with their Muslim counterparts.
Mr Borowski stated that the rise in antisemitic incidents in Scotland this year is of major concern to Jewish people throughout the country.
He said there were 30 incidents in the first six months of this year, more than the total for each of the preceding three years, which were 28,25 and 22 respectively.
In response Mr Blackford said: "I've long expressed support for a two-state solution.
"I'd love to see a sustainable peace between Israel and Palestine and I'd like the SNP to contribute to that in any way we can.
"I was really pleased to be invited to visit the Shul and enjoyed the constructive and wide-ranging discussion with the community leaders.
"The Jewish community is a vitally important part of Scottish life and I look forward to our continued engagement going forward."
Regarding Nicola Sturgeon he added: "The First Minister has a desire to see greater equality in society and she believes strongly that we need to stand up for all faiths.
"We recognise the fears of the Jewish community over antisemitism and we are clear that one instance of antisemitism is one too many. We want Scotland's Jewish community to feel safe."
Commenting in the graffiti attack at the high school, Kirsten Oswald said she would do everything she could to encourage a useful dialogue in the local community.
She added that she had spoken to East Renfrewshire's Director of Education and was reassured by the progress being made.
She said: "This was a constructive and very welcome visit. It was particularly helpful to touch on the important work which GJRC and SCOJEC do in our communities, and I am very pleased to support them in their endeavours."
Earlier, Rabbi Aharon Lemberger gave the two politicians a brief but detailed description of how the Shul operates.
Rabbi Lemberger, the Student Chaplain, was deputising for Rabbi Rubin who had contracted Covid-19.
SCoJeC's Honorary Treasurer, Philip Mendelsohn, told the visitors about the significance of the Queen's Park windows.
The synagogue closed in 2003 and was converted into flats. Its stained glass windows, which were designed by renowned Scottish glassmaker John K Clark, were saved and installed in Giffnock Synagogue.
John K Clark was involved in moving his works of art from one shul to the other.
SCOTTISH CONSERVATIVE LEADER PLEDGES SUPPORT FOR COMMUNITY AT REP COUNCIL MEETING
Friday, 20 August, 2021
Scottish Conservative leader, Douglas Ross MP MSP, reaffirmed his party's support for the country's Jewish community at a meeting with Glasgow Representative Council President Paul Edlin this week.
Mr Ross, who offered to intervene on the issue of antisemitism in schools, was joined by Jackson Carlaw CBE MSP for Eastwood.
Paul Edlin was supported on the Zoom discussion by Rep Council Vice-President Howard Singerman, Secretary Micheline Brannan and Colin Grant, the Rep Council's Public Affairs Consultant.
Antisemitism in schools was one of several issues raised by the Rep Council.
The President told the MSPs that cracks in a previously friendly relationship between Jewish and Muslim communities began during the recent Israel-Gaza war.
Locally, there have been issues in two high schools which resulted in provocative graffiti and parental involvement in an anti-Israel campaign.
The President explained that Rabbi Rubin, with Imam Hassan Rabbani, is planning to go into schools to run a joint Assembly which will give the children a positive message and a role model of religious leaders from both faiths working together.
Mr Carlaw mentioned that Education Secretary Gavin Williamson MP had intervened on antisemitism by writing directly to head teachers in England. Mr Ross offered to ask Oliver Mundell MSP, Education Spokesman, to encourage the Cabinet Secretary for Education in Scotland to take similar action should this prove necessary in the new school year.
The President outlined to the MSPs the efforts which the GJRC has been making to establish a working relationship with the local Muslim community.
He asked the MSPs to help in encouraging Muslims leaders to engage with the Jewish community and stressed that Scottish Jews have nothing but goodwill and the desire to live and work together as good neighbours and fellow citizens with their Muslim counterparts.
Howard Singerman explained the educational work being done locally by the Gathering of the Voices Association in informing young people about the Holocaust and the positive education benefits derived from that.
Paul Edlin pointed out that political intervention has a positive influence when conflicts arise. For example, when there was an antisemitic attack against St John's Wood Synagogue in London, Prime Minister Boris Johnson immediately appeared on a platform with the Chief Rabbi to condemn the attack and show solidarity. Sadly, there was no similar response in Scotland.
Jackson Carlaw confirmed he would be seeking to continue to convene the Cross-Party Group on Building Bridges with Israel at Holyrood, which he founded in the last parliament, and expected representation from both the SNP and Scottish Labour.
The first meeting of the current Session will take place in September and it is hoped that the new Deputy Ambassador for Israel will attend by Zoom.
Paul Edlin said: "This meeting was convened to discuss local antisemitic incidents in the Glasgow area which had occurred subsequent to the military actions in Israel and Gaza of this May. It is comforting that our local MSP, Jackson Carlaw, and the leader of the Scottish Conservative Party, Douglas Ross, are supportive of the community on these issues and particularly supportive of our efforts to build better relationships with other local community groups."
Douglas Ross MP MSP said: "It was a real pleasure to meet with Jewish community leaders and to assure them of my support and that of all Scottish Conservatives. Examples of antisemitism have to be confronted whenever they occur but especially in our schools. We will do all we can to ensure that the Scottish Government acts whenever incidents arise and to be proactive in creating a positive environment in which all communities can live and work together."
Jackson Carlaw CBE MSP said "I know just how important it is to secure the widest possible cross party support for the whole Jewish community which is why, despite the emphatic refusal of the Scottish Greens to participate, I look forward to reconvening the Cross Party Group at Holyrood on Building Bridges with Israel. Of course, it's about tackling antisemitism, but it is also importantly about sharing and building economic, cultural and educational ties as well."
ZOOM MEETING WITH NICOLA STURGEON
Thursday, 12 August, 2021
Nicola Sturgeon has agreed to a public meeting with members of Scotland's Jewish communities.
Covid-19 conditions permitting, it is hoped to stage this hybrid event, in person and digitally, before the end of this year.
The tentative arrangements were discussed when the First Minister held talks with officials from the Scottish Council of Jewish Communities and the Glasgow Jewish Representative Council on Wednesday afternoon.
Attending the digital mini conference were Nicola Livingston and Ephraim Borowski, Chair and Director respectively of SCoJeC, along with Glasgow Rep Council President Paul Edlin and the Rep Council's Public Affairs Advisor, Colin Grant.
Ms Sturgeon affirmed that she would be happy to meet and talk to as many members of the Jewish community as possible, and not restrict the dialogue to officials.
Wednesday's wider discussions focused on issues of great importance to Jewish communities throughout the country.
They included concerns about a possible coalition involving the SNP Government and the Green Party, the only political party not to endorse the Jewish Manifesto, published to coincide with the recent Holyrood elections.
Patrick Harvie and his colleagues refused to even acknowledge the document.
The First Minister said she could not speak on behalf of the Green Party but she understood the Jewish community's concerns.
Also on the agenda were antisemitic attacks which intensified during the Israel-Gaza conflict, particularly against Jewish students, efforts to bolster interfaith relations in light of anti-Israel actions in a secondary school, and the First Minister's availability for a meeting with the Israeli Ambassador.
Ms Sturgeon stated that she had reflected deeply on the issues raised in Scotland as a consequence of the Israel-Gaza conflict and reaffirmed her opposition to antisemitism in this country.
She added that she understood that many incidents go unreported because people who are isolated because they don't consider themselves part of the settled communities, or live in remote parts of Scotland, feel vulnerable and are worried about repercussions.
And she acknowledged that there are others, first, second and now third generation survivors who are terrified of antisemitism because of their memories of the Holocaust.
Nicola Livingston reminded the First Minister that she had held a very successful meeting with Jewish students some years ago and wondered if another meeting might be possible, in view of the rise of attacks on Jewish students.
Ms Sturgeon acknowledged the request and indicated she would view it positively. Her suggestion that SCoJeC might consider meeting with university chancellors to discuss antisemitism on campuses was unanimously welcomed.
Regarding a potential meeting with Israel's Ambassador, the First Minister said she does not have any objection in principle, provided a suitable opportunity and time could be found.
She stated that she meets ambassadors all the time the last time a meeting was proposed with the Israeli ambassador it was not suitable for her and then Covid intervened preventing a subsequent meeting.
Responding to Paul Edlin's question about the disturbing incidents in secondary schools, Ms Sturgeon confirmed that she endorses all efforts by the Jewish community to reach out to other faiths and suggested she might be able to support a specific initiative if it falls within the Government's remit.
The First Minister said: "I found the meeting incredibly useful and would like to thank SCoJeC and GJRC for raising issues that are important to Scotland's Jewish communities.
"I would like to reassure of our Jewish communities that antisemitism will not be tolerated in Scotland and we remain committed to tackling it. It unequivocally remains the case that matters abroad do not, and cannot, justify antisemitism or expressions of racial or religious hatred of any form.
"Later this year we will report on the progress of our Tackling Prejudice and Building Connected Communities Action Plan and develop a new hate crime strategy in consultation with stakeholders, including SCoJeC and GJRC.
"I very much look forward to continued engagement as we move forward with our collective aim of tackling antisemitism in Scotland."
Nicola Livingston thanked the First Minister for agreeing to the meeting and said: "We appreciate Ms Sturgeon's understanding of these sensitive and complex issues. Her willingness to suggest ways in which she can support the Jewish community across Scotland to feel safe and tackle rising antisemitic Hate Crime as well as other matters of concern, is particularly welcomed."
Paul Edlin said: "The meeting was most productive on a number of levels and I would like to thank the First Minister for giving us her time today."
GLASGOW JEWISH REPRESENTATIVE COUNCIL IN CONVERSATION WITH NATAN SHARANSKY
Sunday, 23 May, 2021
Iconic Soviet refusenik Natan Sharansky's was our guest speaker at a Zoom meeting. The event, organised with support from the Jewish Leadership Council, was attended by 50 people. GJRC President Paul Edlin put the questions to Mr Sharansky and the introduction and vote of thanks was given by Vice-President Howard Singerman.
During his talk, Mr Sharansky said:
"The current situation with Hamas started very dramatically. It was Jerusalem Day – such an important one of celebration in Israel. My grandchildren were dancing in the streets with their youth group, along with youngsters from other groups, when the siren went off. This was a very unusual situation for Jerusalem – as it was for Tel Aviv. It was a very traumatic situation for them."
Asked about the flare-up overall, Mr Sharansky said: "Four thousand missiles were launched and 10 lives were lost – Jews, Israeli Muslims and foreign workers. I am not concerned about Israel in security terms. Israel has proved that it has unique intelligence and weaponry. The country is strong and society is strong, despite the confrontations between some Arabs and Jews. It was difficult and painful, but I believe we will be stronger.
"What concerns me is the wave of both old and new antisemitism. Our enemies are having more and more public relations successes. There is no moral clarity or symmetry. Palestinian children were killed because Hamas decided to use them as shields.
"One hundred kilometres of tunnels were destroyed but still, so many people are speaking out for human rights, democracy – and LBGT rights. They must be crazy. There is an attempt to give legitimacy to the argument that Israel doesn't have the right to exist."
Mr Sharansky spoke of his time growing up in the Soviet Union and how the only thing Jewish about the lives the Jews lived there, was antisemitism. That changed after the Six Day War in 1967, when people began to be aware of their identity.
Having been arrested and sentenced to nine year's hard labour in 1978, he spent two years in isolation in a punishment cell. Living on three pieces of bread and three cups of water a day, he survived by playing thousands of games of chess in his head.
He paid tribute to the unique work done by Jewish groups in the UK, such as the Women's Campaign for Soviet Jewry (the 35s) and the support from the US.
Speaking about his enthusiasm for the Abraham Accords Mr Sharansky added: "I have no doubt that Hamas is the enemy of these countries too. We have to be more generous to those who want to enjoy Israel and stronger against those who oppose us."
Other topics covered included how, when President Gorbachev went to Washington in 1986, Mr Sharansky managed to bring 250,000 American Jews together to demonstrate for the release of Soviet Jews wishing to make Aliyah; his thoughts on opposition leader Navalny returning to Russia from Germany after being poisoned; his views on the Biden administration.
An overriding theme that came across during the event, was Natan Sharansky's desire for the unity of the Jewish people.
He said: "Once you are part of the Jewish people, you will never be alone. I am convinced that with all our disagreements, our desire to continue as one people is stronger than ever. Our challenge is to make sure that Jews should not be embarrassed to be Jewish and about Israel."
LETTER TO COMMUNITY MEMBERS FROM PRESIDENT
Thursday 20 May, 2021
Dear Community Member,
We are in the midst of very worrying, unsettling times, as Israel is again being bombarded with rockets, and experiencing civil unrest. This has resulted in an increase in verbal and written attacks on Israel in the media with ramifications on the Jewish Community.
We want to assure the community that the Glasgow Jewish Representative Council (GJRC) has been very active on your behalf and will continue to be so. Here are some of the actions we have taken so far:
Early last Tuesday morning, we were made aware of First Minister Nicola Sturgeon's unacceptable, totally unbalanced statement on the situation in Israel and Gaza, in which she laid blame solely on Israel. Aware of the distress and anger this would cause to the community, I called for a joint meeting with the Scottish Council of Jewish Communities to consider sending a letter to the First Minister.
The following day, 12 May, I chaired a joint meeting of the Glasgow Jewish Representative Council and SCoJeC with an additional Glasgow communal representative.
It was agreed that a letter would be sent to the First Minister. The next morning I spoke with the Jewish Telegraph and the letter was sent to the First Minister.
On Thursday 14 May I spoke to the President of the Board of Deputies (BOD), and their Public Affairs officer. The BOD President said she would be issuing a statement in response to what the First Minister had said, and that the BOD would send a copy of our letter to their senior contact in the FM's office.
GJRC is arranging meetings with the Leaders and Provosts of Glasgow District Council and East Renfrewshire Council to discuss the situation and concerns of the community.
We are reaching out to the Muslim Community and we are pressing for meetings soon to try to ensure that the excellent community interfaith relations we are building in Glasgow are not damaged by this crisis in Israel.
I spoke on the phone to the East Renfrewshire MP Kirsten Oswald (SNP) to express our concerns, which she said she would see pass on and she was supportive in our wish to ensure that our community is not in any way damaged by the situation in Israel.
I have spoken to Rabbi Rubin and he will contact Muslim and other religious clergy, to have prayers for all people affected in Israel and the Palestinian territories said at all places of worship as soon as possible.
Today we became aware of anti-Israel graffiti and the posting of inappropriate pro-Palestine posters in Mearns Castle High School. I have written today to the Head Teacher, expressing our concern over this and the upsetting effect it is having on Jewish pupils in the school and on the wider community. We have requested a meeting with him next week.
We have been in touch with the police and community buildings including synagogues and Calderwood Lodge School will be getting increased police support.
This is an ongoing situation and we will continue working to keep our Glasgow Jewish Community secure and safe.
SCOTTISH PARLIAMENT HUSTINGS MEETING
Monday, 22 April, 2021
Glasgow Jewish Representative Council hosted a Scottish Parliament Hustings meeting last night to give members of the community the chance to hear the views of the candidates of the main political parties for the Eastwood constituency.
There was a large turnout for Jackson Carlaw (Conservative), Tahir Jameel (Liberal Democrat), Colm Merrick (SNP) and Katie Pragnell (Labour), as they answered questions sent in by community members and contextualised. The event was chaired by Glasgow Jewish Representative Council President Paul Edlin.
During the hustings all the candidates stated that they supported the Scottish Jewish Manifesto which had been jointly prepared by the Glasgow Jewish Representative Council, The Scottish Council of Jewish Communities, the Jewish Leadership Council and the Board of Deputies and all principally stated that they endorsed the ten commitments which were listed in that manifesto.
Topics covered were:
The handling of the COVID pandemic and how the country can move forward; independence and devolution; NHS recovery and increased funding for mental health support; the recent Hate Crime Bill and how candidates would stand up against antisemitism and other forms of hatred; how candidates would further enhance the relationship between Scotland and Israel; how they would preserve and promote Holocaust remembrance and education in Scotland; how willing they would be to break from party lines if their beliefs were challenged; how their parties are going to fund the commitments they have made.
The vote of thanks was given by Glasgow Jewish Representative Council board member Sharon Schlesinger. Assistance in organising the event was given by Jewish Leadership Council Scottish Regional Manager Danielle Bett.
You can view the whole event here.

Tuesday, 16 April, 2019
Pesach Greeting from Archbishop Mario Conte:
Dear Friends,
Once again I have the privilege and pleasure of passing on to you the greetings and good wishes of the Catholic Church in Scotland as you celebrate the Festival of Pesach, remembering as you do the saving work of God and God's desire for the liberation of all people. We Christians feel a special bond with you at this time, rejoicing in our shared heritage and faith in the saving action of God as we journey towards Easter.
As I write our nation is torn apart by discord, political turmoil and the rise of anti-Semitism, islamophobia and racism of all kinds. It has led to fear and insecurity in many of our communities. You know so well from history and experience the terrible consequences of discrimination, hate speech and action. It behoves us all to challenge and stand united against such attitudes, to proclaim a common humanity and a shared sense of citizenship. Here in Scotland the work of interfaith gives us an opportunity to do that. It takes a certain amount of courage to sustain this work, especially if the results are not always obvious but I am constantly reminded of the words of Pope Francis when he reminds us that the very meetings between us are a message in themselves. They are a witness to a relationship based not on suspicion but on mutual respect and acceptance of difference.
As we celebrate our foundational festivals I pray that we may continue to promote love, unity and friendship between our two faiths and between people of all faiths and none, appreciating in each other the image of God in whose likeness we and they have all be formed.
Once again I assure you of the thoughts and prayers of the Scottish Bishops, our Committee for Inter Religious Dialogue and the whole Catholic community for the whole Jewish community in Scotland this Pesach.
Yours very sincerely,
+Mario Conti, Archbishop Emeritus of Glasgow,
Chair of the Committee for Inter Religious Dialogue.
Friday, 15 March, 2019
There will be a Vigil in Glasgow for the victims of the New Zealand Mosque terror attacks. It is taking place at 5pm by the steps of the Buchanan Galleries.
Police Scotland have sent a message of reassurance to minority communities.
NATIONAL HOLOCAUST MEMORIAL DAY SCOTLAND – 28 January, 2019
This year's National Holocaust Memorial Day Scotland was hosted jointly by East Renfrewshire and Renfrewshire Councils and focused on this year's HMD theme Torn from Home.
Among those taking part were Martin Stern, who was marched from his school in Amsterdam by Nazis when he was only five, because his father was a German Jew.
The story of Yazidi woman Farida Khalaf, who was taken by ISIS, forced to convert to Islam, raped, beaten and sold to different men, was told and a poignant poem Children of Survivors was recited by sister ten-year-old Lainey and six-year old Carmella Rubayiza to commemorate the 25th Anniversary of the Rwandan genocide.
Scotland's senior Rabbi Moshe Rubin recited Av Harachamim, a prayer introduced after the destruction of communities at the time of the crusades and said on Shabbat in memory of all those killed through anti-Semitism.
The Glasgow Jewish Community was represented by GJRC Co-President Nicola Livingston.

PITTSBURGH SYNAGOGUE ATTACK – 27 October, 2018
Joint Statement from the Glasgow Jewish Representative Council, the Scottish Council of Jewish Communities and the Jewish Leadership Council – 29 October, 2018
This weekend, Jewish people from all over Scotland came together in "Scotland's Jewish Gathering" to celebrate our unity and identity as Scottish Jews. The optimistic, positive mood of this unique Gathering was shattered by the appalling news of the horrific attack on a synagogue in Pittsburgh, made all the more abhorrent by the hate-filled rhetoric of the killer as he attacked people at prayer.
Participants in the Gathering recited psalms and prayers for the victims, and we were heartened by the messages of solidarity we received from across Scotland. We welcome the reassurance of the police that there is no information suggesting an imminent threat to the Jewish community in Scotland.
Our keynote speaker, Justice Secretary Humza Yousaf, spoke movingly of solidarity between Muslim, Jewish, and other minority communities and the need to stand together against such hatred, saying "In Scotland we will continue to work together to tackle prejudice and build the society we want to be, where each person, every family, and all communities can flourish."
We in Scotland stand together with other Jewish people worldwide in sending our thoughts and prayers to those affected by this horrific attack and the terrible loss of life. May the injured be speedily healed, the bereaved be comforted, and memory of those who perished be a blessing.
Message from the Glasgow Jewish Representative Council – 28 October, 2018
As Shabbat in the UK drew to a close today, the horrendous news filtered in of the devastating attack on the congregation during services at the Tree of Life Synagogue in Pittsburgh USA.
On behalf of the Jewish community in Glasgow and the West of Scotland our thoughts are with the families of those who were murdered whilst they came together and welcomed a new baby to the community. We send prayers for a speedy recovery to those who are injured, including the police officers who were wounded whilst trying to ensure the safety of others.
A hate crime against any Jewish person is an attack on the Jewish community and is felt around the world. Whilst we hug our loved ones a little tighter tonight, both actually and virtually, let us come together in strength and determination to show the world that hatred can never define who we are or how we live our lives.
FRIDAY, 31 AUGUST, 2018 – NEW YEAR MESSAGES FROM OUR CO-PRESIDENTS
EVY YEDD
It is very worrying times for Jews in the UK as we approach a new year 5779. We can no longer give Jeremy Corbyn benefit of doubt as it is crystal clear that not only does he have an intense dislike of Israel, he also does not like Jews. When you listen to his speeches throughout the years he never acknowledges the violence Israel faces, I find this very disturbing.
I am very fortunate that I have a father who was a past President of Glasgow Jewish Representative Council and understands fully the enormity of responsibility on one's shoulders and when I seek his council and advice he always tells me that it was never any different for Jewish people, always anti-Semites out to discredit us with misinformation and lack of information, he reminds me to stay strong and calm, never lose faith and continue to do all in your power to counter the misinformation on Israel and our people that pollutes British Society. His words give me strength and resolve always, words of wisdom from a special brave man, born in 1922 and having seen so much happening to his people, K lal Yisroel.
The Glasgow Jewish Representative Council continues to work reaching out to the wider Scottish community and politicians, our work greatly enhanced by Danielle Bett, funded by the Jewish Leadership Council UK but directed here in Scotland jointly by GJRC and SCoJeC, working very closely and in harmony. Our two organisations have joined with Edinburgh Hebrew Congregation to create a Scottish Jewish Gathering Shabbaton weekend, 26th – 28th October in Edinburgh an exciting weekend for all – a national get together for Scottish Jews from all strands for a weekend of social, cultural and educational events, hosted by Edinburgh Hebrew Congregation. There will be a jamming session of Jewish musicians, a guided walk through Edinburgh, panel discussions, fabulous food, workshops and speakers.
Orli Schechter our Operations Director recently left the Council to take up a new challenge and we thank her for her outstanding performance and achievements over the last 4 years. We all wish Orli success in her new position with Giffnock Shul. Our sincere thanks to Board member Michael Clerck who guided us through the recruitment process and to Jewish Community Centre co-ordinator Philip Mendelsohn with Daniel Clapham who have been supporting the Co-presidents as our new Operations Director Lorne Jackson and Administrator Rachel Sinclair take on their new roles and running of the Council. Please contact Lorne or Rachel in the office for more information on the Scottish Jewish Gathering weekend, or if you want any other information, they are extremely helpful and gaining knowledge quickly.
Nicola and I are thrilled that new and younger Board members have taken on Executive positions, Raina Morris as Vice President, Barry Berlow-Jackson as Secretary, and Karen Levy as Treasurer.
We wish our Executive, our Board members and the Community a healthy happy year ahead.
I will stay calm and strong and do everything in my power to stand up for our people, just as my father has always advised me.
NICOLA LIVINGSTON
It is indeed sad and unsettling that not only has there been a rise in anti-Semitism, especially on social media, but that the issues with the Labour Party have been dominating the News in the last few months. Whilst it has enabled a wider debate to take place, it has also pushed many Jewish people into situations where they have been expected to defend their Jewish identity. Indeed anti-Semitism is a significant issue, but it is not the only issue and we must not let it overshadow the positive aspects of Jewish life and our community's place in civic society.
We have good friends and close allies amongst public figures such as politicians and faith leaders and also our personal friends and colleagues, I believe we must celebrate and treasure these relationships and take strength from them.
It has, as ever, been a busy year and we have been working on a number of projects that will enhance the lives of the Glasgow community. The new Calderwood Lodge joint campus site is now a year old. The pupils, teachers and families have many positive stories and this innovative setting has attracted attention from around the world. Discussions continue with a number of community organisations about the potential for development of a new shared building or repurposing of existing buildings in order to provide more user friendly facilities that are attractive and are no longer such a drain on communal funds. One of our new Trustees has begun looking at ways to promote the community, and its activities, both in order to encourage local people to become more involved, and also to show people from further afield what a wonderful place this is to live and work.
There are many thoughts about the significance of Rosh Hashanah; it is not just a time to our renew relationship with G-d, or with whatever our Judaism means to us, but importantly also with each other. Community doesn't exist in a vacuum, but is constructed by relationships and Rosh Hashanah isn't just about being new, it's about change and how we move forward in a positive way.
As we dip our challah and apple in honey in the hope of a sweet year, let us find new ways to reach out to those who feel they don't belong, not just inviting them to join us, but looking at ways we can change to make what we offer more welcoming.
With many thanks to the calm and steady support of my co-president, as well as all our Trustees who work hard make sure that the interests of the community are represented in so many different spheres and who provide the checks and balances that enable us to make decisions and speak with a united voice.
Wishing all the community, friends and family across the globe, L'shanah Tovah, a healthy, happy and peaceful year ahead.
WEDNESDAY, 30 MAY, 2018 – GJRC AGM and AWARDS CEREMONY
Our Annual General Meeting was held in the Jewish Care Scotland Walton Community Care Centre, on Wednesday, 30 May.
The meeting was chaired jointly by Co-Presidents Nicola Livingston and Evy Yedd, whose statement can be found here.
A cheque was presented to Positive Action in Housing.
The theme of the AGM was Interfaith and there was a presentation by Interfaith Glasgow chairman, former GJRC President Philip Mendelsohn, Weekend Club Officer Lynnda Wardle and Club volunteer Maureen McEnroe. Philip Mendelsohn spoke about the three main aspects of Interfaith Glasgow – Friendship, Dialogue and Co-operation. The charity had won third place at the Jordanian King Abdullah II World Interfaith Harmony week for the event "Friendship, Dialogue, Cooperation. Lynnda Wardle described the work of the Weekend Club, which provided a lifeline for refugees and asylum seekers who would otherwise be at a loss at the weekends. The Club provided both fun and a little education and gave newcomers to Glasgow the chance to get to know others and make new friends. Volunteer Maureen McEnroe described working at the Club as a heartwarming experience and how the refugees were fully involved in the planning of activities.
Giving an update on Arklet Housing, Board member Philip Mendelsohn announced that Arklet was going to go into partnership with the Hanover Housing Association and the move was expected to go through within 12 – 15 months.
The Yoni Jesner Award was presented to Carter Cohen, who is going on a GAP year to Israel with FZY.
The Adele and Edward Woolfson Youth Awards were presented jointly to 5th Giffnock Girl Guiding Leader Morgan Livingstone, of whom Evy Yedd wrote, 'she is a young woman who will make a difference to our world in a big way'; and JLGB and Maccabi Summer Scheme Leader Nathan Simpson, who has shown a long-lasting dedication to the Glasgow Jewish community, both as a participant and leader.
It was decided to award certificates to fellow Youth Award nominees Srully Rubin, Daniel Cohen and Alex Hyman.
The Philip Jacobson Award for services to the community was presented to joint winners, Freda Kostick and Claire Miller and to Jeff Vulkan and Ralph Gurevitz. Freda and Claire have been Jewish Care Scotland volunteers since 2000. Freda and Claire's warm, welcoming personalities bring colour to the Aviv Club clients, many of whom live on their own and attend the Club for friendship and support. Jeff and Ralph have run Glasgow CST for many, many years on a voluntary basis. CST's Northern Regional Director Amanda Bomsztyk said, 'over the years they have selflessly given hours and hours of their time to protect the community – time they could have spent with their precious family and friends'.
Elected to office: Co-Presidents, Nicola Livingston and Evy Yedd; Treasurer, Howard Singerman; Immediate Past President, Paul Morron; Trustees, Barry Berlow Jackson, Michael Clerck, Ziv Dotan, Paul Edlin, Daniel Frank, Matat Jablon, Miriam Jackson, Raina Morris, Sammy Stein, Richard Townsend, Linda Wolfson and Michelle Wilson. Hon Solicitor, Howard Beach; Independent Examiner, Lewis Osborne.
Refreshments were sponsored by the Leslie and Alma Wolfson Charitable Trust.
WEDNESDAY, 29 MARCH, 2018 – Letter from Eastwood Labour Party
The Glasgow Jewish Representative Council has today received a letter of support and apology from Eastwood Labour Party with regard to issues of anti-Semitism within the Labour Party.
We have responded:
"Thank you for your letter regarding current issues that the Labour Party is
facing in relation to anti-Semitism. Your letter is most welcome and your support and desire to take clear action is hugely appreciated.
We are very keen to meet with you to discuss the issues highlighted and the course of action you are looking to proceed with. We would like to include our colleagues from across Scotland, namely the Scottish Council of Jewish Communities (SCoJeC) and the Jewish Leadership Council (JLC)."
We are in the process of arranging a meeting with Eastwood Labour for next month.
WEDNESDAY, 7 MARCH, 2018
GJRC held a Public/Delegate meeting with Lord Advocate
GJRC's special guest speaker was The Lord Advocate, The Rt Hon James Wolffe QC at the meeting, held in the Jewish Care Scotland Walton Community Care Centre, Giffnock.
Mr Wolffe spoke of his role as head of the system of prosecutions and deaths across Scotland. He commended the values of fair administration of justice and the rule of law – values he was very proud to uphold in a country committed to upholding them.
The Lord Advocate spoke about Hate Crime and how it was treated as an aggravated crime because of the additional impact it had on its victims and the groups they belonged to.
The Presidents' Statement was delivered by Co-President Evy Yedd and it included an introduction to
the new Jewish Leadership Council Public Affairs Officer Danielle Bett, who took up her role at the end of February.
Fellow Co-President Nicola Livingston spoke about the decision of the Board of Trustees to revisit the Community Futures Report.
WEDNESDAY, 30 MAY, 2018
GJRC AGM and Awards Ceremony – details to be confirmed.
THURSDAY, 16 NOVEMBER, 2017 – 7pm
Invest in Peace Event
St Cadoc's Catholic Church, Giffnock and Newlands Synagogue, and Orchard Hill Parish Church invite you to hear the incredible stories of two bereaved parents who promote reconciliation as an alternative to revenge.
In March 2002, Robi Damelin's son David was shot by a Palestinian sniper, he was 28 years old. In January 2007, Bassam Aramin's 10-year-old daughter Abir was shot by an Israeli soldier. As a result of their experiences, Robi and Bassam joined The Parents Circle – Families Forum, which is renowned for its work to promote peace and reconciliation between Israelis and Palestinians.
We will also be joined by Jackson Carlaw, MSP for Eastwood and Deputy Leader of the Scottish Conservatives.
Hear them speak to an interfaith audience in Glasgow Southside. Location will be emailed to registered attendees a few days before the event. Book here: peaceglasgow.eventbrite.co.uk
WEDNESDAY, 11 OCTOBER, 2017
JEWISH LEADERSHIP COUNCIL – PUBLIC AFFAIRS SCOTLAND JOB VACANCY
WEDNESDAY, 13 SEPTEMBER 2017
URGENT APPEAL FROM THE ABERDEEN JEWISH COMMUNITY
The Glasgow Jewish Representative Council would be grateful if members of our community could help the Aberdeen Jewish Community at this time of crisis:
SAVE ABERDEEN SYNAGOGUE AND COMMUNITY CENTRE
The UK's most northerly synagogue is without a home for the festivals following serious flooding. Aberdeen's community of barely two dozen members had overseen a major upgrade of the four-floor building over the past two years, which along with concerted efforts to run both religious and social activities, had refreshed and revitalized the community.
However, the building is no longer fit for purpose and extensive repair work now requires to be done, because, as the community's Debby Taylor says, "Everything is wet, damp and smelly".
The community faces a choice – close its doors, or face the estimated £30,000 cost of drying out and refurbishment, of which only two thirds will be met by insurance. Without the shul building, which also includes a communal hall, this tiny community is unlikely to survive.
© Jennie Workman Milne
The Aberdeen community is extraordinarily vulnerable, as some of its members have been subjected to regular antisemitic harassment that has now reached the courts. The shul building provides a safe space for the members and also a welcoming environment for Aberdeen's thriving Jewish Students' Society and the many Jewish and Israeli visitors to the city.
YOU CAN HELP NOW TO SAVE ABERDEEN SYNAGOGUE – THE TARGET IS £10,000. Please give generously. Details are on the Aberdeen Synagogue and Jewish Community Centre home page:
THURSDAY, 25 AUGUST 2017
MEETING WITH WEST DUNBARTONSHIRE COUNCIL LEADER
From left, Immediate Past President Paul Morron, WDC Leader Councillor Jonathan McColl, co-president Nicola Livingston and WDC Councillor Ian Dickson
GJRC Co-President Nicola Livingston and Immediate Past President Paul Morron had a highly constructive meeting with the new Leader of West Dunbartonshire Council, Councillor Jonathan McColl and fellow Councillor Ian Dickson in Clydebank Town Hall on Thursday, 25 August.
Nicola Livingston reported:
"We discussed the various issues we need to speak to local authorities about, including welfare and education. We passed on our thanks to WDC for their novel idea in lighting up the Clydebank Titan Crane purple and white to mark Holocaust Memorial Day.
"We had an excellent meeting. Councillor McColl was very interested in what we had to say about the effects of anti-Semitism on the community. We agreed to keep the communications, already established with the previous administration, open and provide any information or assistance when requested."
WEDNESDAY, 16 AUGUST 2017
NEW CALDERWOOD LODGE PRIMARY SHARED FAITH CAMPUS SCHOOL OPENS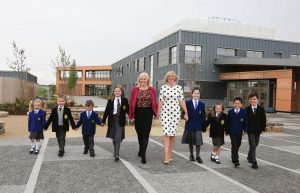 Photo – Mark F Gibson ©Gibson Digital
The new joint faith Jewish and Catholic primary schools in Newton Mearns, Calderwood Lodge and St Clare's, opened their doors to pupils at the start of the new session on Wednesday morning.
GJRC co-president Nicola Livingston said: ""We are delighted to see the plans for the new Calderwood Lodge and St Clare's joint campus come to fruition. The school is at the very heart of the Jewish community and we were pleased to have been heavily involved in this exciting project.
"We would like to thank East Renfrewshire Council for their innovative approach and vision in recognising the importance of Scotland's only Jewish school and investing in the lives of our children.
"We wish Calderwood and St Clare's all the very best and look forward to having many occasions to visit the school and participate in activities."
Fellow co-president Evy Yedd said: "Today was a very special day not only for the pupils and parents but also for Scottish Jewish people, as Calderwood Lodge is the Jewel in the Crown of our community. I have been involved as a parent and a member of staff since 1979 and know that the school will continue to provide the best secular and Jewish curriculum within a happy, caring and loving environment underpinned by Jewish values.
"I am proud to be associated with Calderwood where every child from many backgrounds is nurtured so that they will achieve their full potential. Mazel Tov to Mrs Carlton, Mr Robson and all the staff and pupils. GJRC will continue to give its support to the school."
THURSDAY, 27 JULY, 2017
INTERFAITH MEETING WITH HOME SECRETARY AMBER RUDD
The Glasgow Jewish Representative Council, represented by co-presidents Evy Yedd and Nicola Livingston, hosted a meeting between the Home Secretary Amber Rudd and local interfaith leaders this morning. The meeting, which was held at the Jewish Community Centre, was organised by East Renfrewshire MP Paul Masterton.
Before the meeting, Evy Yedd gave the Home Secretary a tour of Giffnock Synagogue.
THURSDAY, 20 JULY, 2017 – Security update
As members of the Community may be aware, there have been reports in the media of a supposed list of "target sites" in the UK , including three in Scotland, posted on an ISIS-related social media site.
Glasgow Jewish Representative Council and the Scottish Council of Jewish Communities have taken advice from both Police Scotland and the Community Security Trust (CST), and both reassure us that there is no specific intelligence to suggest that any form of attack is likely to take place either in Scotland or in the UK in general.
The aim of terrorist groups is to cause disruption to the life of the community by creating a climate of fear. Police Scotland have confirmed that the information contained in this post is significantly out of date, which further suggests that the intention is to generate fear rather than a specific threat. We therefore urge members of the Community and others not to circulate further speculation about this matter, as that only serves to increase the anxiety of others.
Police Scotland have told us that they are working with all communal sites to enhance their security, and to provide reassurance, and the CST have confirmed that they are in close contact with the police.
In an emergency, always dial 999, but if you anyone has information or concerns that are not urgent, they should contact their local police station by ringing 101.
It would be appreciated if you would also contact [email protected] or 0141-638 6411, so the situation can be monitored.
SUNDAY, 23 APRIL, 2017
Yom Hashoah Event, held in the Giffnock Synagogue Hall
Yom Hashoah, which focused on the stories of Holocaust survivors living in Scotland, was attended by a huge crowd this year.
In her message, co-president Evy Yedd said: "There will always be a small number of people who will make a comment that the Jews should stop talking about the Holocaust. There are very valid reasons that this should never be the case. Firstly, we shall never forget those precious and beautiful souls who were murdered just because they were Jewish, Roma, Sinti, disabled or gay. Secondly, as long as there is still prejudice in our world, speaking about the Holocaust should in some small way help fight the negative attitudes that still prevail withing some people.
"Scottish schools are doing a grand job and making a real difference educating our young people to respect and cherish those who are not from a similar background to their own family, but there is still much to be done. I will never forget a wonderful young primary school pupil who told me one day that Hitler would have killed him twice – 'once for being a Jew and once for being disabled'."
In her message, co-president Nicola Livingston said: "Yom Hashoah is the day when the Jewish community stops (quite literally if you are in Israel) and remembers. We remember the dire consequences of what happened when an evil ideology spread darkness across the world, fostering hate and turning people against one another. We remember the stories of death and devastation and also of courage and hope. We give names to the numbers, both those branded on the arms of people who were herded like cattle to be slaughtered and the unimaginable figure of the six million who were murdered.
"We do this not to wallow in self-pity for what might have been, but to understand how these events shaped modern history and the world we live in today. Whilst Yom Hashoah is a day of introspection, when we draw together as a community to mourn and remember, it is also an opportunity for us to gain deeper understanding and to gather the strength to go back out into the world and speak up against those who are ignorant or who deliberately, through lies and misinterpretation, attempt to deny the Holocaust."
Yom Hashoah was organised by the GJRC Yom Hashoah Committee, chaired by Agnes Isaacs, and supported by UJIA, East Renfrewshire Council, the Jewish Youth Fund and the Netherlee & Clarkston and Queen's Park Charitable Trusts.
20 APRIL, 2017
Response to Church of Scotland Embracing Peace and Working for Justice Report
SCoJeC has issued a statement, supported by the Glasgow Jewish Representative Council, in response to the publication of Embracing Peace and Working For Justice, a joint report by the World Mission Council and the Church and Society Council to the forthcoming Church of Scotland General Assembly to mark the centenary of the Balfour Declaration.
"We have previously welcomed the Church's overtures to the Jewish Community for a new focused dialogue "striving for a deeper understanding and greater mutual respect for one another", and their acknowledgement of "the damaged relationships arising out of the Church's involvement in the Balfour Project conference in 2012 and the publication of the Inheritance of Abraham? in 2013". We appreciate the efforts of those involved in preparing the report to consult the Jewish Community in Scotland, and amongst expatriate Scots in Israel, and to take account of their views.
"However, we have considerable reservations about the published report, and in particular the proposed Deliverance (resolution) which condemns Israeli settlements, but not Palestinian terrorism or Hamas's institutionalised antisemitism, and asserts "that Christian theology should not be used to justify or perpetuate a situation of injustice", while making no mention of the supersessionist theology which shamed the Church in 2012 and 2013 and which is implicit in its commendation of the Kairos Palestine document. We are also puzzled and concerned that the report explicitly casts doubt on the two-state solution and the Church of Scotland's support for a two-state solution, despite this remaining the agreed policy of the international community, and without any suggestion of what might be a just and viable alternative.
"Nonetheless, we welcome the acknowledgement in the report itself of the significance of Israel to Jews in Scotland, the vast majority of whom see Israel as forming part of their identity as Jews; and its recognition that Scottish responses to events in the Middle East frequently result in a rise in antisemitism in Scotland, and that the Church has an obligation to counter that antisemitism, and engage in dialogue. The revised report also explicitly notes that there was a Jewish presence continuously in the Holy Land since Biblical times, that the resettlement of the Land and friction between Jews and Arabs long predated the Balfour Declaration, and that more than half of Israel's citizens are descendants of refugees who were expelled from Arab countries following the creation of the state of Israel, and it criticises calls by Hamas for "the obliteration of Israel".
"As the representative body of a community that almost universally has close ties – religious, emotional, or personal – with Israel, we regret the report's reliance on selective voices and vignettes that obscure the reality of life in Israel: for example, it fails to mention that Palestinians constitute around 20% of Israeli citizens who have full democratic and civil rights in stark contrast to the position of both Palestinians and Christians in most other countries in the Middle East; and there is no sense of holding the Palestinian leadership to account, or indeed of treating Palestinians in general as moral agents rather than helpless victims.
"Nevertheless, we welcome the Church of Scotland's retreat from much of the offensive theology of its previous reports, and believe that only through increasing dialogue and deepening insight can we come to a better understanding of one another's concerns. Not least amongst these matters for the Jewish Community in Scotland is the relevance to the Church of the worsening experience of Being Jewish in Scotland, as well as concerns on both our parts about the land that is holy for us both.
24 March, 2017
GJRC statement on terror attack
The Glasgow Jewish Representative Council has issued this statement following the terrorist attack in central London this week:
The civilised world has been deeply shocked by the terrible events that occurred in London this week. The attack on our democracy and our way of life in the UK was cowardly and sickening and cannot be justified in any way. At times like these, we are reminded of the underpinning values of our free, inclusive and democratic societies, and such acts of terror, designed to set us against one another, must only serve to bring us yet closer together.
We wish to express our feelings of solidarity and togetherness with the people of London and all those affected by the incident this week.
Whilst Police Scotland advise that "there is no specific intelligence to suggest such an incident will occur in Scotland, the UK threat level remains at Severe, therefore we must remain alert but not alarmed." The Jewish Communities of Glasgow and the West of Scotland are reminded to remain vigilant. We urge other minority faith communities in the area to do the same and show that we are strong when we stand together.
1 FEBRUARY, 2017
Meeting with leader of the SNP on Glasgow City Council
GJRC Co-President Nicola Livingston, Vice-President Isaac Ansell Forsyth and Immediate Past President Paul Morron met with the Glasgow City Council SNP leader Councillor Susan Aitken at the City Chambers on Wednesday, 1 February.
The meeting was one of an ongoing programme of meetings between GJRC and leaders of the different parties at various local councils.
Nicola Livingston said: "It was a very cordial and productive meeting. We raised various issues of concern to the community with Councillor Aitken, including anti-Semitism and anti-Israeli sentiment.
"It was important that we established a relationship not at a time of crisis. We have agreed to meet on a regular basis, whatever the outcome of the May Council elections."
21 JANUARY, 2017
Tragic deaths of Mohammad and Talat Aslam
Many people will have seen the terrible news about a minibus, en route to a religious pilgrimage which crashed in Saudi Arabia, killing six passengers. This was a group of extended family and some will have noticed that two of them, Mohammad and Talat Aslam were from Newlands in Glasgow. The family are well known to many members of the Jewish community, some through business and others because their five children attended Calderwood Lodge Jewish Primary School.
As you can imagine all the family are distraught. The three sons have flown out to identify their parents bodies and those of their other relatives. We have been in ongoing contact with colleagues at Glasgow Central Mosque to offer our condolences and are being kept updated.
A number of members of the community have approached us looking for contact details so that they can send messages, but the feeling is that this will be too overwhelming at the moment. Therefore, we would like to suggest that anybody who wishes to send a message, should send it to the Rep Council office and we will collate and pass them on, when and to whom, we are advised is most appropriate. .
THURSDAY, 12 JANUARY, 2017
Glasgow Jewish Representative Council hosts a Meeting on the progress of the new Calderwood Lodge Jewish Primary School as well as its Delegate Meeting
Come along to the Jewish Care Scotland Walton Community Care Centre, May Terrace, Giffnock at 7.30 pm to hear an update on the progress of the building of the new, Calderwood Lodge/ St Clare's RC Primary School shared campus in Newton Mearns.
There will be information on the process and schedule for parental placement requests for the new Calderwood, too.
At the same time, you will be able to find out what has been happening in the community and what your Representative Council has been doing on your behalves.
Light refreshments will be served.
28 SEPTEMBER 2016 – SHIMON PERES SADLY PASSES AWAY, AGED 93
President Rivlin's Statement on the Passing of Israel's Ninth President Shimon Peres (Communicated by the President's Spokesperson)
President Reuven Rilvin expressed his deep sadness on the passing of Israel's former President and Prime Minister Shimon Peres in the early hours of this morning (Wednesday, 28 September). The President's Office confirmed that the President – who was currently on a state visit to Ukraine – would be returning early from the visit, and would arrive back in Israel during the course of the day.
President Rivlin said, "A short distance from where I am visiting in Ukraine, in the city of Vishnyeva, Belarus, was born Szymon Perski, who grew to be a young man with great dreams. From here, from Eastern Europe, he immigrated to the land of Israel, and ever since never ceased to work for the sake of the Zionist movement, for the sake of the State of Israel, and the people of Israel.
"There is not a chapter in the history of the State of Israel in which Shimon did not write or play a part. As one man he carried a whole nation on the wings of imagination, on the wings of vision. A man who was a symbol for the great spirit of this people. Shimon made us look far into the future, and we loved him. We loved him because he made us dare to imagine not what was once here, nor what is now, but what could be.
"This is a sad day for the Israeli people, and the State of Israel. We all bow our heads at hearing of his passing. I will carry his memory with me, his handshake, his sensible advice which he always gave lovingly, and in particular his spirit of hope which he breathed into this people. The spirit of hope and peace which was his path and desire."
2. PM Netanyahu Statement on the Passing of Shimon Peres (Communicated by the Prime Minister's Media Adviser)
Prime Minister Benjamin Netanyahu, this morning (Wednesday, 28 September), released the following statement on the passing of former President and Prime Minister Shimon Peres:
"We grieve today for the passing of our dear and beloved Shimon Peres.
Shimon devoted his life to our nation and to the pursuit of peace.
He set his gaze on the future.
He did so much to protect our people.
He worked to his last days for peace and a better future for all.
As Israel's President, Shimon did so much to unite the nation.
And the nation loved him for it.
Few people contributed as much to our people and to our state.
I first met Shimon 40 years ago at the graveside of my brother Yoni, who fell leading his men to rescue our hostages in Entebbe in Uganda.
I will never forget the warmth Shimon showed me, my brother and my parents in our great moment of grief.
Just a few days ago at the UN, I wished Shimon a speedy recovery from the hearts of all Israelis and so many around the world.
We all prayed that Shimon, with his unique strength, his unique vigor would somehow come out of this, would somehow come back to us.
To my deep sorrow, this prayer was not answered.
Now Shimon Peres has departed from us.
But he will never depart from our hearts and from our memories.
His name will be forever engraved in the story of the rebirth of the Jewish people, as one of our great leaders, as one of the founding fathers of the State of Israel."
The statement can be viewed on YouTube at:
A very short and moving video which focuses on Peres's work at the international arena. This can be shared on social media.
YouTube – https://www.youtube.com/watch?v=GdOXjrFXZT8&feature=youtu.be
Facebook – https://www.facebook.com/IsraelMFA/videos/10154017616076317/
Some selected quotes by Mr Peres:
For me, dreaming is simply being pragmatic.
Optimists and pessimists die the exact same death, but they live very different lives
-You are as young as your dreams, not as old as your calendar
People that have no fantasies, don't do fantastic things
I'm made from the future
I will do everything for peace
Love people, you are surrounded by people all day long. Don't hate people, even those who you don't really like
We have existed for 4,000 years – 2,000 years in diaspora, in exile. Nobody in the Middle East speaks their original language but Israel. When we started 64 years ago, we were 650,000 people. So, you know, we are maybe swimming a little bit against the stream, but we continue to swim.
We should use our imagination more than our memory
In Israel, a land lacking in natural resources, we learned to appreciate our greatest national advantage: our minds. Through creativity and innovation, we transformed barren deserts into flourishing fields and pioneered new frontiers in science and technology.
CONDOLENCE NOTICES FROM WORLD LEADERS – twitter.com/israelmfa
Pictures, statements and a video – facebook.com/israelmfa
GPO Collection of Photographs and Video Clips on the Late Shimon Peres
The Government Press Office accompanied the ninth President of the State of Israel, Shimon Peres, throughout his public life and mourns his passing.
70 years of stills photos and the resume of Shimon Peres:
Selected videos of Peres milestones:
PRESS RELEASE – 3rd August 2016
The Jewish Community in Scotland and the Church of Scotland have agreed to establish a concentrated dialogue between members of the two communities.
The topics to be discussed in these dialogues include possible areas for collaboration such as education, shared social action, theological similarities and differences, geopolitical matters that affect Jewish-Christian relations such as Israel and Palestine, and antisemitism and joint action to respond to it. It is envisaged that the result of this dialogue might be a joint resource with agreed theological terms and references, including an exploration and examination of differences and diversity in belief and scriptural interpretation, a glossary of theological terms that are widely misunderstood, a protocol for alerting one another of issues that might damage the positive relationship between our communities, and a list of areas of future collaboration.
The group will have around 10 members representing a wide range of views within each community. Among other things the group will seek to address issues arising out of the publication of the Inheritance of Abraham Report and the Church of Scotland's involvement in the Balfour Project that led to a strain in the relationship. It will meet regularly from autumn of 2016 with a view to producing a report by the autumn of 2017, and a steering group of three members from each community has been established to take the proposal forward.
Commenting on the initiative, Rev Richard Frazer, of the Church of Scotland said, "Alongside others from within the Church of Scotland, I am looking forward to embarking on this important piece of work together with our colleagues from within the Jewish community. We hold a great deal in common as people whose shared faith is rooted in the story of Abraham. That faith inspires us to work together for a better world as well as striving for a deeper understanding and greater mutual respect for one another."
Ephraim Borowski, Director of the Scottish Council of Jewish Communities, added, "We very much welcome this initiative to re-establish the close relationship between the Church of Scotland and the Jewish Community and repair the damage caused in recent years. We look forward to constructive and productive discussions that will have the lasting legacy of resources that will continue to support better understanding for generations to come."
Kirk and Jewish leaders move to 'repair damage' after anti-semitism scandal
http://www.heraldscotland.com/news/homenews/14657863.Kirk_and_Jewish_leaders_move_to___39_repair_damage__39__after_anti_semitism_scandal/
COUNCILLOR GORDON MATHESON'S ADDRESS TO THE GLASGOW & WEST OF SCOTLAND BRANCH OF THE COUNCIL OF CHRISTIANS AND JEWS
Tuesday 2nd February 2016
LETTERS FOLLOWING PARIS TERROR ATTACK
MONDAY 16 NOVEMBER 2015
Following the tragic terrorist attacks in Paris on Friday, 13 November, the Glasgow Jewish Representative Council president Paul Morron has sent the following letters on behalf of the Jewish Community.
Letter to French Consul-General
Response from French Consul in Edinburgh
Letter to Glasgow-Central-Mosque
LETTER TO SANDRA WHITE MSP AND RESPONSE FOLLOWING RETWEETING OF ANTI-SEMITIC CARTOON
FRIDAY 13 NOVEMBER 2015
Sandra White – 13 November 2015
Sandra White – 11th November 2015
SPEECH TO COMMUNITY BY COUNCILLOR GORDON MATHESON
MONDAY 7 SEPTEMBER 2015
Our Delegate and Public Meeting on 7th September 2015 was well attended.
Our guest speaker was Councillor Gordon Matheson (then Leader, Glasgow City Council). Councillor Jim Fletcher (Leader, East Renfrewshire Council) also addressed the Jewish Community, and Jim Murphy was presented with a gift to mark 18 years service to the Jewish Community.
Gordon Matheson's speech can be found here: Councillor Gordon Matheson spee