THE 2023 ANNUAL AJEX REMEMBRANCE SUNDAY MARCH, WREATH-LAYING CEREMONY AND MEMORIAL SERVICE
16 November, 2023
The annual Glasgow Association of Jewish Ex-Servicemen and Women Remembrance Sunday commemorations took place on Sunday, 12 November, 2023
The AJEX event, organised by Glasgow Jewish Representative Council administrator Evy Yedd, was led by local brigade commander Monty Cowen who, together with GJRC treasurer Barry Berlow-Jackson, laid wreaths at the Newton Mearns war memorial. Those marching with the AJEX contingent included Scotland's senior minister Rabbi Moshe Rubin, East Renfrewshire MP Kirsten Oswald, local area police commander Chief Inspector Graeme Gaillie and standard bearers from the 5th Giffnock Guides.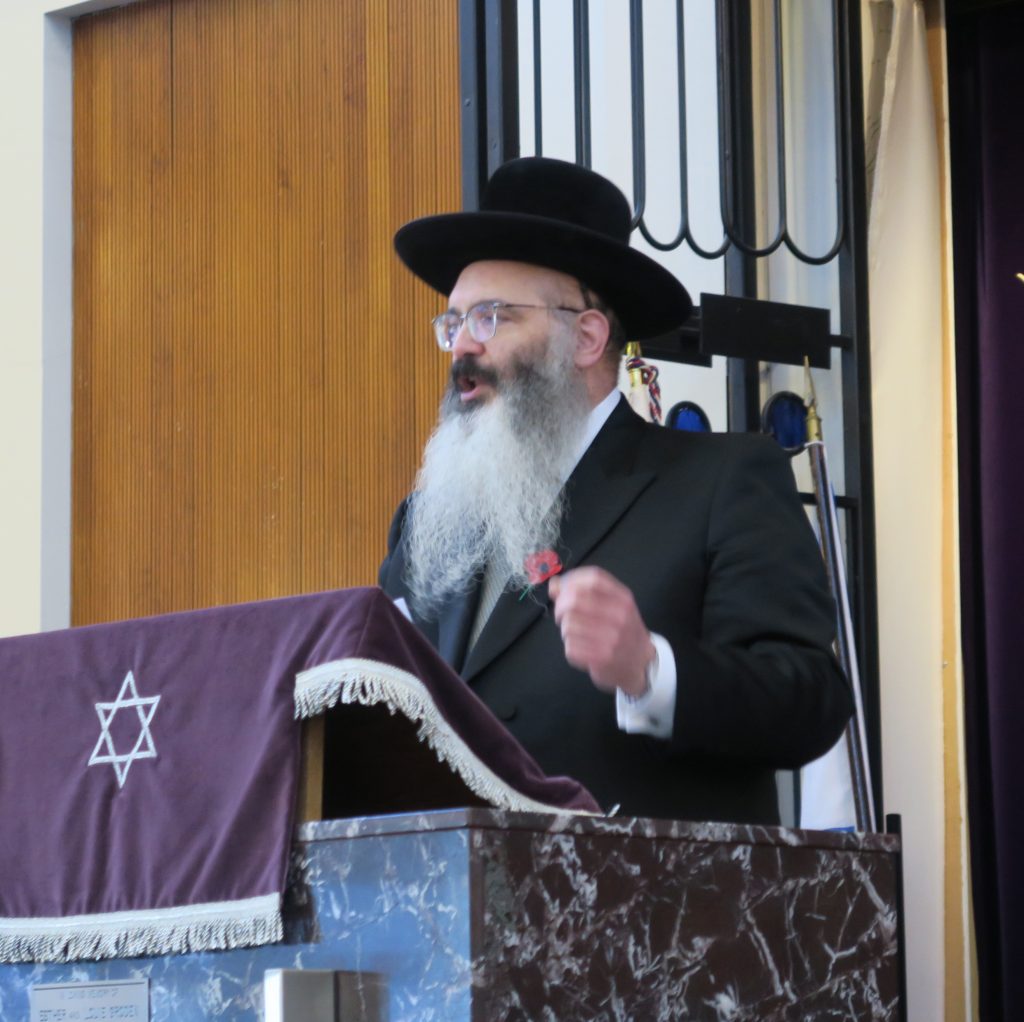 At the shul service afterwards, held for the first time in Giffnock Newton Mearns Shul, Rabbi Rubin gave the Memorial Address to an audience that included East Renfrewshire Provost Mary Montague, Kirsten Oswald and Renfrewshire Deputy Lieutenant Philip Rodney.
Rabbi Rubin spoke of the values soldiers stood for – freedom of religion, civil liberties, dignity for all, decency, respect and rights for all.
Evy Yedd read out the lists of Glasgow Jewry killed in action, as well as Canadian and Polish servicemen who died in active service and are buried in Glenduffhill Cemetery. Rabbi Rubin recited El Mole Rachamim, Monty Cowen recited Kaddish and SCoJeC treasurer Philip Mendelsohn gave the oration. Bugler Robin Thompson played the last post and reveille.
At the kiddush afterwards, Barry Berlow-Jackson said: "Remembrance Sunday is a day to commemorate the contribution of British and Commonwealth military and civilian servicemen and women in the two World Wars and later conflicts.
"I have not sacrificed anything for my freedom. It was given to me, by those who came before me and sacrificed so much. So now, it is my responsibility to never forget them."
THE GLASGOW JEWISH REPRESENTATIVE COUNCIL SUPPORTS JEWISH WOMEN'S AID
16 November, 2023
This year the theme for Jewish Women's Aid Shabbat is 'Exploring Healthy Relationships'. The goal is to open conversations across our community about what makes a relationship healthy – or unhealthy. We have created a Shabbat Activity, looking at different characteristics of a relationship and discussing: are they healthy, unhealthy or even abusive?
By thinking about and discussing these scenarios we hope to achieve two things:
Encourage a thoughtful and considerate approach to relationships in our community
Empower members of the community to recognise when their situation may not be unhealthy, but abusive
The activity is available in shul and online at jwa.org.uk/healthyrelationships and can be done at home with family, with friends or in any setting.
ASSOCIATION OF JEWISH EX-SERVICEMEN AND WOMEN REMEMBRANCE DAY EVENTS
26 October, 2023
The community is requested to attend these events, especially as very few serving personnel remain. It is important to remember those who served their country and made the ultimate sacrifice to ensure our freedom today.
There will be a kiddush after the Memorial Service. If you are planning to attend please, for catering purposes, let our office know via [email protected] or on 0141 577 8200.
DROP IN SUPPORT GROUPS
22 October, 2023
TO JEWISH PEOPLE IN SCOTLAND
18 October, 2023
SERVICE OF SOLIDARITY
15 October, 2023
As tragic events continue to unfold in Israel, SCoJeC and the Glasgow Jewish Representative Council held a Service of Solidarity in Giffnock Newton Mearns Synagogue on Thursday, 12 October. More than 500 members of the community, parliamentarians, civic and faith leaders, and guests joined together to reflect on the events of the last week when we saw innocent civilians in Israel subject to a barbaric attack by Hamas. Innocent men, women, and children have been indiscriminately murdered and many have been have taken hostage including old people, Holocaust survivors, and young children.
Rep Council President Timothy Lovat opened the service by stating powerfully that "Israel may be our homeland, but Scotland is our home. Let's live and pray together in peace and harmony today, tomorrow, and forever". He then invited the mother of the late Bernard Cowan, who was murdered in Israel the previous Saturday, to light a memorial candle in memory of her son who was born in Glasgow.
The senior rabbi in Scotland, Rabbi Moshe Rubin of Giffnock Newton Mearns Synagogue, gave a moving address, sharing how difficult the previous days had been since he led the congregation over Simchat Torah. He talked of his own reflections of the events in Israel and shared his hope that the community across Scotland continue to take comfort from one another.
View the full report here.
WE, AS A COMMUNITY, STAND WITH ISRAEL.
09 October, 2023
The Scottish Council of Jewish Communities and the Glasgow Jewish Representative Council are horrified by the barbaric attack by Hamas on innocent civilians in Israel. Hamas terrorists have indiscriminately murdered innocent men, women, and children, and have taken hostage old people, including Holocaust survivors, and young children. Nothing can justify such acts – nothing.
The vast majority of Jewish people in Scotland have friends and family in Israel, and our thoughts and condolences are with all those affected. We sadly already know of a number of families in our community who have lost loved ones, and tragically there may well be more.
In Scotland, unfortunately, we know that when conflict escalates in the Middle East, we see antisemitism rise in the UK. We thank the CST and Police Scotland for their ongoing efforts to keep our community safe.
We thank the First Minister Humza Yousaf MSP for his comments today unequivocally condemning the actions of Hamas. As he acknowledged, although we have family on opposite sides of the border, we are equally concerned for their safety.
Let us all hope and pray for a speedy resolution to this conflict, an end to terrorism and extremism, and a peaceful future for all.
We encourage anyone who would like to reach out to us, or requires support, to do so by getting in touch with either of our offices, and if anyone suffers or is aware of any racist or antisemitic incidents, please inform the police, CST, and SCoJeC with as much detail as possible.
HAPPY NEW YEAR
14 September, 2023
The President, Trustees and Staff of the Glasgow Jewish Representative Council wish the Community a Happy, Healthy, Sweet and Peaceful New Year and an East Fast.
PRESIDENT'S DIARY – Timothy Lovat attended the Jewish Care Scotland Welcome Wednesday discussion session.
23 August, 2023
Timothy was part of a discussion panel with Association of Jewish Refugees social worker Myrna Bernard, Scottish Jewish Archives Centre Curator Deborah Haase and Giffnock Newton Mearns Synagogue Chairman Michael Goodman.
Asked about antisemitism and security in the community, the President advised that the Rep Council works very closely with Police Scotland and the CST and that there had been no warnings of imminent threats. He also spoke about the excellent relationships between the Jewish and other faith communities in Glasgow, which would be helpful if there was another flare-up in the Middle East between Israel and the Palestinians.
PRESIDENT'S DIARY – The President, Timothy Lovat attended a Service of Thanksgiving on Sunday, 7 May, at Glasgow Cathedral, to mark the Coronation of King Charles III and Queen Camilla.
Attending with his wife Claire, he gave a reading from the Book of Kings.
GLASGOW JEWISH REPRESENTATIVE COUNCIL YOM HASHOAH EVENT 2023
18 April, 2023
The Giffnock Newton Mearns Synagogue Hall was packed on Tuesday, 18 April for this year's GJRC Yom Hashoah event. The guest speaker was Australian journalist and author Peter Grose who spoke about his book A Good Place to Hide which detailed how a French village took in and saved thousands of Jews and got them to safety, without being caught.
Peter Grose told the audience: "Le Chambon-sur-Lignon is a village in Eastern France. It was 95% populated by Protestants and perhaps because of its Huguenot background, they too know what persecution was all about. They helped the Jews, including a great many children who had been in internment camps, knowing that if they got caught the penalty was death, but none of them got caught.
Guests were welcomed by GJRC Yom Hashoah committee Chair Agnes Isaacs.
View full story here.
——————————————————————————-
When the Glasgow Jewish Representative Council (GJRC) was formed in 1914, it was to represent the Jewish community in Glasgow and the surrounding areas.
The Council helps to ensure cordial relations between the Jewish community and other civic and religious groups and sends delegates to a variety of faith and other forums and committees.
The Glasgow Jewish Representative Council, which is democratically elected, hosts a forum for religious, welfare, cultural, social, educational and youth organisations. It liaises with these bodies to ensure the effective running of the community.