HOLOCAUST MEMORIAL DAY EVENTS 2023
12 January, 2023
University of Glasgow Annual Holocaust Lecture – Thursday 19 January, 2023
Professor Shirli Gilbert of UCL will speak on 'Music on the Brink of Destruction'.
An extraordinary range of musical activities, both forced and voluntary, took place in the Nazi ghettos and camps, from the earliest internment centres established in 1933 until the liberation in 1945. The musical works created there by prisoners are extraordinary documents from the time. In this talk, Professor Shirli Gilbert will present original songs from this period, including some rare post-war recordings. The songs offer rich insight into victims' experiences, conveying the uncertain and shifting perspectives of prisoner communities as they made sense of lived reality.
Refreshments Served: 6pm
Lecture start time: 7pm
Lecture end time: 8pm
Attendees can take part in the lecture both online or in person, choose your ticket type on our registration page here.
Scotland's National Online Holocaust Memorial Day Programme – Friday, 27 January, 2023 – 10am
You are invited by the Edinburgh Interfaith Association, Holocaust Memorial Day Trust and the Scottish Government to register for the official National Holocaust Memorial Day Online Event for Scotland.
You are invited to register to view the online programme which will be available from 10am on the 27th of January 2023 on the Edinburgh Interfaith Youtube Channel. Shortly after you register the link will be emailed to you where you can access the programme.
In the programme we pay our respects to those who lost their lives in the Holocaust and subsequent genocides and attempt to learn the lessons from humanity's dark past. The programme will include contributions from Holocaust survivor Henry Wuga, Bosnian genocide survivor Sabina Kadic-Mackenzie, First Minister Nicola Sturgeon, Christina McKelvie Minister for Equalities and Older People, and students from Graeme High School's, 'Mentoring in Violence Prevention' programme.
Reserve a place here.
FESTIVAL GREETINGS
16 December, 2022
The President, Board and Staff Members of the Glasgow Jewish Representative Council wish the Community Chag Chanukah Sameach and a Happy, Healthy, Peaceful and Prosperous 2023.
AJEX REMEMBRANCE SUNDAY MARCH, WREATH-LAYING CEREMONY AND SHUL SERVICE
13 November, 2022
Rep Council President Tim Lovat spoke of the debt he owed to all those who served in the World Wars, after a Remembrance Sunday Service held in the Giffnock Newton Mearns synagogue in Newton Mearns on Sunday, 13 November.
The AJEX event, organised by Rep Council administrator Evy Yedd, was led by local brigade commander Monty Cowen who, together with Timothy Lovat, laid wreaths at the Newton Mearns war memorial. Those present included Rep Council Past Presidents Evy Yedd, Paul Morron, Philip Mendelsohn and Harvey Livingston and a group from the 5th Giffnock Guides.
At the shul service afterwards, Scotland's senior rabbi Moshe Rubin gave the Memorial Address to an audience that included East Renfrewshire Provost Mary Montague, ER MP Kirsten Oswald and Renfrewshire Deputy Lieutenant Ken Ross OBE.
Read the full report here.
REP COUNCIL PRESIDENT ATTENDS ABRAHAM ACCORDS LONDON CELEBRATION
10 November, 2022
Scotland's Jewish community was represented by Timothy Lovat at a major diplomatic reception to celebrate the second anniversary of the signing of the Abraham Accords.
The Glasgow Jewish Representative Council President was a guest at the event, in central London, which honoured the historic agreement between Israel, UAE, Morocco and Bahrain.
It was addressed by Rishi Sunak, who reaffirmed the Government's commitment to the Abraham Accords "and all they represent".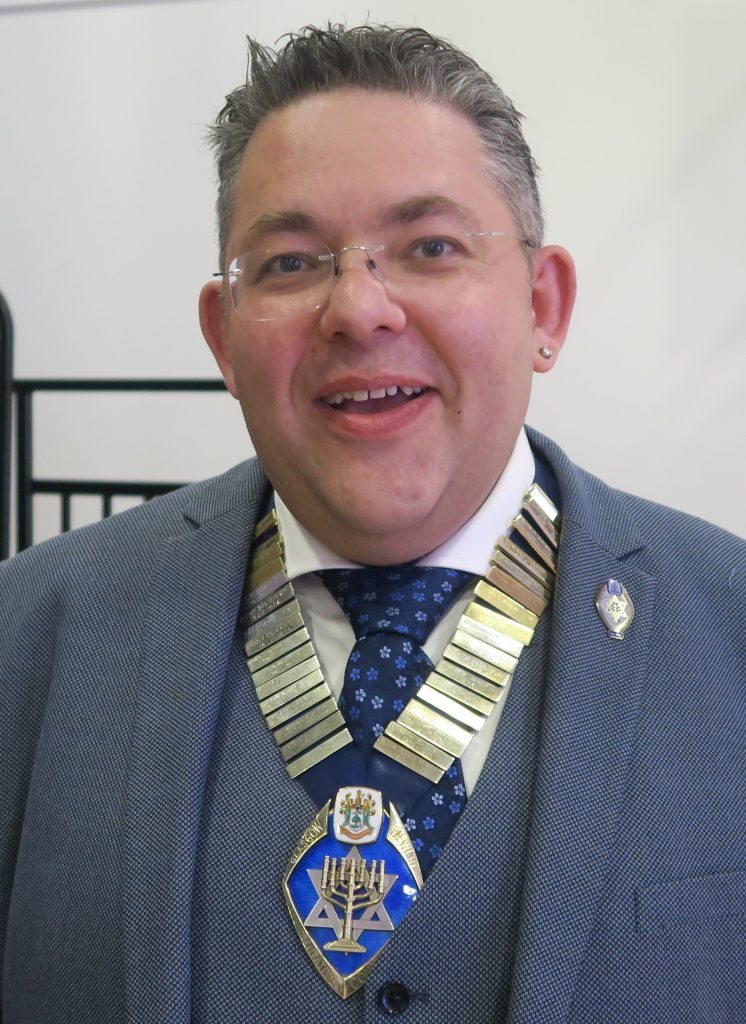 The PM told the audience of 250 Parliamentary, Diplomatic and Interfaith representatives: "Today we send a clear message about our commitment to the Accords and all they represent.
"The Accords have kickstarted a new era of relations in trade, tourism, security and more.
"This would have been impossible just a few years ago, but it does show how we can transform peace and stability in the region.
"The UK is committed to working with you all to take this initiative from strength to strength."
The reception was organised by UK Abraham Accords Group, the Board of Deputies of British Jews, and ELNET UK.
Afterwards Tim Lovat said: "I had been invited to the embassy to discuss ways of celebrating the 75th anniversary of Israel's independence next year.
"The ambassador, Tzipi Hotovely, wants to include Scotland in the arrangements and I looked at several ideas with her staff.
"After the meeting I was given a tour of the highly-impressive embassy building and then it was on to the Abraham Accords reception.
"I felt very honoured to be invited as a representative of Scottish Jewry and I know the very good relations the Rep Council has enjoyed with Board of Deputies will have been strengthened as a result."
The reception was attended by the four Ambassadors of the Abraham Accords Countries.
DONATIONS NEEDED FOR NEW WARM SPACES PROJECT
10 November, 2022
In response to the ongoing cost of living crisis and increasing prices, Cosgrove Care and Jewish Care Scotland are working together to launch Warm Spaces. Each Sunday they will open the doors of the Walton Community Care Centre to members of the community who are in need of somewhere warm to spend the afternoon, something to eat, or simply looking for company. We plan to offer each attendee a bag of essential items for their cupboard at the end of each session too, and we are looking for donations to support this. We are asking for donations of essential bathroom, cleaning items or gift vouchers that can be donated to those who are impacted by the ongoing financial crisis
MITZVAH DAY – REQUEST FOR DONATIONS
26 October, 2022
The Matana Club is holding a collection drive for Mitzvah Day this year, as well as inviting children in P4-P7 and their families to come and volunteer with them. While the volunteering is for children and their families, the entire community can contribute to the mitzvah by donating clothes, household goods, toiletries, and shelf-stable food items to the Matana Club collection. Drop off items on Sunday, 20 November between 12:30 and 3:00 pm. The Black Door Shop is off Church Road in Giffnock, in the building across the road from Orchardhill Parish Church. The car park can be entered from Rosslea Drive.
JEWISH CARE SCOTLAND COST OF LIVING GRANT
13 October, 2022
For more information, email Kayleigh on [email protected] or phone 0141 620 1800.
ANNUAL AJEX REMEMBRANCE SUNDAY MARCH, WREATH-LAYING CEREMONY AND SERVICE
29 September, 2022
The Annual Association of Jewish Ex-Servicemen and Women Remembrance Sunday March, Wreath-Laying Ceremony and Service takes place on Sunday, 13 November, 2022. The meeting time is at 10.15am in the Fairweather Hall car park, Newton Mearns. From there the parade will march the short distance to the Memorial at Mearns Cross for the wreath-laying ceremony. There will then be a service of remembrance in Newton Mearns Synagogue, Larchfield Avenue, followed by refreshments.
Members of the community are requested to attend the whole event, organised by the Glasgow Jewish Representative Council, or the service if unable to march.
NEW YEAR GREETINGS
22 September, 2022
The President, fellow Trustees and Staff of the Glasgow Jewish Representative Council wish the Community
A HAPPY, HEALTHY AND SWEET 5783 and an EASY FAST.
NEWSLETTER IN TRIBUTE TO THE QUEEN AND BOOK OF CONDOLENCE
22 September, 2022
A special Newsletter in tribute to our late Queen can be found on our Newsletter page.
A Book of Condolence has also been opened by the Rep Council. It is being taken to various community venues and will then be available for signing in our offices in the JCC, 222 Fenwick Road, Giffnock, G46 6UE. Please phone 0141 577 8200 or email [email protected] if you wish to sign it.
8 September, 2022
Glasgow's Jewish community is deeply saddened by the passing of Her Majesty the Queen.
Timothy Lovat, President of the Glasgow Jewish Representative Council, spoke on the community's behalf and said: "We would like to express our great sorrow at the passing of Her Majesty the Queen and send our sincere condolences to the Royal Family.
"Most of us were born and have grown up during her 70-year reign and during that time she has been a constant and wonderful inspiration to us all."
ONE BIG PICNIC – IN GEORGE SQUARE – WE WERE THERE
6 September, 2022
We were delighted to have participated in the One Big Picnic 2022, held in George Square on Sunday. The Rep Council had two stalls at the event, organised by Interfaith Glasgow. The GJRC stalls were organised by Administrator Evy Yedd. One stall, manned by GJRC Trustees Sharon Schlesinger and Sammy Stein and his wife Vicci, served kosher food such as challah and strudel to visitors. The other one, manned by Evy, Public Affairs Consultant (JLC) Colin Grant and Communications Manager Sharon Mail,
contained a variety of artefacts relating to Judaism as well as sheets providing visitors with the chance to learn how to write their names in Hebrew with some assistance.
The purpose behind the event was to bring together people of all different faiths and cultures in a harmonious gathering and provide them with free food, as well as a chance to play games, enjoy face painting and learn about each other. There was a huge turnout and everyone present from the Rep Council really enjoyed being part of it.
CALDERWOOD LODGE REACHES 60
29 August, 2022
The Glasgow Jewish Representative Council extends its congratulations to Calderwood Lodge Jewish Primary School on reaching 60 years.
The School opened in Calderwood Road, Newlands in August, 1962 and has gone from strength to strength through the years. It started off as a private school, before being taken over by Strathclyde Regional Council and then East Renfrewshire Council when Strathclyde was split into separate councils. ERC approached the Rep Council with a proposal to build a new, state of the art school in Newton Mearns as part of as a shared campus with St Claire's Roman Catholic Primary School. With everyone's blessing, the new school opened in August, 2017 and the landmark shared faith campus has been a great success.
Calderwood and the community held several special events in 2012 to celebrate its 50th Anniversary.
Planning is underway to mark the 60th Anniversary throughout the coming school year. The Glasgow Jewish Representative Council is also planning to celebrate this milestone birthday for the school.
ARMED FORCES DAY
20 June, 2022
New Glasgow Rep Council President Timothy Lovat's first engagement was at the East Renfrewshire Council Armed Forces Day Flag Raising Ceremony.
The event, which honoured Britain's Armed Forces past, present and future, took place outside the headquarters of
ERC in Giffnock.
Provost Mary Montagu welcomed the dignitaries and guests which included local MSP Jackson Carlaw, Colonel (Retired) Peter McCarthy the Lord Lieutenant of Renfrewshire, Timothy Lovat and local AJEX Brigade commander Monty Cowen.
Afterwards Timothy said: "It was a great honour for me to represent Glasgow's Jewish community at such an important occasion.
"All of us in the community will forever remember the great sacrifices hundreds of thousands of brave men and women made on our behalf during WW2.
"We are indebted to them and we will not forget them."
GJRC AGM
16 June, 2022
The Glasgow Jewish Representative Council held its first live AGM since COVID on Thursday, 16 June, in the Giffnock Newton Mearns Synagogue Giffnock Reception area.
Timothy Lovat, the new President of the Glasgow Jewish Representative Council, is the youngest holder of that office in the organisation's history.
The 44-year-old businessman succeeded Paul Edlin, who stood down after his three-year term came to an end at the Annual General Meeting last week.
As he accepted the Chain of Office, Timothy pledged to try to bring out the best of what the city's Jewish community has to offer.
He said: "I would like to harness all that is good in Glasgow's Jewish community, all the expertise and the knowledge, and bring it together for the common good.
"Although the community has shrunk in recent years, we still have a great deal to give, not just to one another but also to Glasgow as a whole and the rest of Scotland.
Timothy also thanked Paul Edlin for all of his hard work during his Presidency and promised to continue with his efforts to build good relations with the local Muslim population.
"Paul has made great strides in this direction and I would like to congratulate him on that success and continue where he left off," he said.
The full report can be found here.
THE QUEEN'S JUBILEE CELEBRATIONS
2 June, 2022
The Glasgow Jewish Community is pleased to celebrate Her Majesty the Queen's 70 Glorious Years as our monarch. We extend our congratulations, gratitude and best wishes to her.
——————————————————————————-
When the Glasgow Jewish Representative Council (GJRC) was formed in 1914, it was to represent the Jewish community in Glasgow and the surrounding areas.
The Council helps to ensure cordial relations between the Jewish community and other civic and religious groups and sends delegates to a variety of faith and other forums and committees.
The Glasgow Jewish Representative Council, which is democratically elected, hosts a forum for religious, welfare, cultural, social, educational and youth organisations. It liaises with these bodies to ensure the effective running of the community.